Music & Arts in the Valley
---
Call the Cultural Arts Hotline at (330) 650-4636, ext. 228 after 2 p.m. the day of an event for up-to-date ticket availability and severe weather cancellations.
---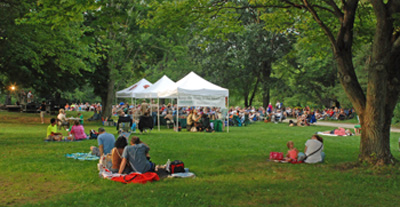 NPS DJ REISER
Music in the Meadow
Grab a blanket and a picnic dinner and bring your family to hear FREE music in the national park! The festivities begin with lawn games and a musical craft. The concert series is presented by Cuyahoga Valley National Park and the Conservancy for Cuyahoga Valley National Park, with support from Audio-Technica, the Lloyd L. & Louise K. Smith Memorial Foundation, Woodsy's Music, The Gay Community Endowment Fund of Akron Community Foundation, and the National Park Foundation. Alcohol prohibited. Donations to support this series will be accepted at each event. Howe Meadow, 5:30 p.m. family activities, 6:30 p.m. concert begins. Concerts are cancelled during severe weather, unless otherwise noted. Call 330-650-4636 ext. 228 after 2 p.m. for an update.
Wednesday, July 30 - Rescheduled concert!
Carlos Jones & the P.L.U.S. Band
Since 1998 Carlos Jones & the P.L.U.S. Band have featured soulful roots reggae with infectious rhythms and creative percussion. Their repertoire includes original songs, recognizable covers, and traditional Rastafarian Nyabinghi drum chants.

Wednesday, August 6
Cletus Black Revue
Fronted by an award-winning guitarist/vocalist, the five-piece Cletus Black Revue has been grabbing live audiences' attention for over a decade. The band excites with their unique blend of rock, blues, jazz, and pop music.

Wednesday, August 13
Tylan & Ingrid and The Laura Love Duo
In celebration of the 2014 Gay Games, join us for this special two-act extended concert. Americana duo Ingrid Elizabeth (of Coyote Grace) and Tylan Greenstein (of Girlyman) kick off the spirited evening. Next, The Laura Love Duo blends funk, folk, pop, bluegrass, jazz, and country. A phenomenal vocalist/songwriter/bassist, Laura is backed by guitarist Jen Todd. Additional support provided by the National Park Foundation and The Gay Community Endowment Fund of the Akron Community Foundation. If there is inclement weather, the concert will move to Happy Days Lodge and free same-day tickets will be available at www.conservancyforcvnp.org.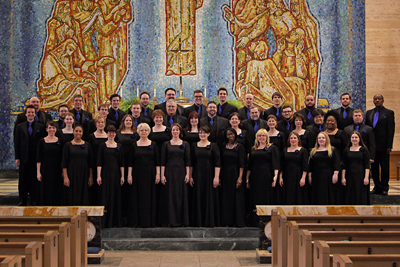 COURTESY SINGERS COMPANYE
Music by Nature
Presented by the Conservancy for Cuyahoga Valley National Park and the National Park Service, this popular concert series delight audiences again this summer. Admission: $20 general, $17 Conservancy members (includes a dessert reception). General seating. Advance sales are available until 3 p.m. on Friday, August 1, by calling 330-657-2909 ext. 100. Performance begins at 6:30 p.m. at Happy Days Lodge. Porch and grounds open at 5 p.m. for picnicking. A dessert reception follows the performance.
On concert day, call the Cultural Arts Hotline at 330-650-4636 ext. 228 after 2 p.m. for ticket availability.
Sunday, August 3
Cuyahoga Valley Chamber Players
This string quartet plays music with flute, clarinet, and harp—bringing a sophisticated beauty and grace to a warm summer evening. Concert features A Night Piece by Foote, the classic Clarinet Quintet by Mozart, and the hauntingly beautiful Introduction and Allegro by Ravel.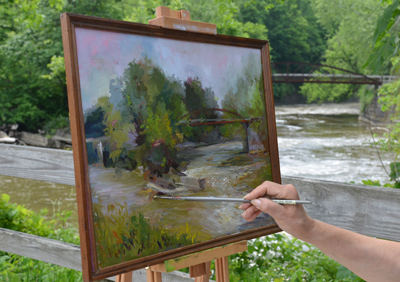 NPS PETER WILSON
Plein Air Exhibition
Mondays through Fridays, June 30 through August 8
Plein Air Exhibition
John S. Seiberling Gallery on the Hines Hill Campus, 8:30 a.m. - 5 p.m. Weekends by appointment. Free. For more information call 330-657-2909.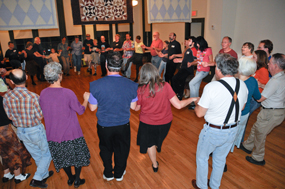 NPS/TED TOTH
Cuyahoga Valley Contra Dance
Thursdays, August 14 and 28, September 11 and 25, October 9 and 23, and November 13
Become part of a living tradition in Cuyahoga Valley—contra dancing. Caller Carol Kopp leads dancers through each dance while the band Hu$hmoney plays lively jigs, reels, and tunes. Comfortable clothing and shoes are recommended. Fee: $6. Boston Township School House, 7 p.m. instruction, 8 - 10:30 p.m. dancing.
Cuyahoga Valley Photographic Society
Part of the Conservancy, CVPS sponsors monthly presentations by locally and nationally recognized photographers as well as workshops, photo walks, and an annual show. Free. Happy Days Lodge, 7 - 9 p.m. For more information contact CVPS at info@cvps.org or the Conservancy at 330-657-2909.
Thursday, July 17
Lisa Rainsong: Singing Insects
Join composer, naturalist, and photographer Lisa Rainsong as she explores the sounds of a summer evening. Learn how Lisa finds, photographs, and records the insects that produce nature's summer symphonies.

Thursday, August 14
Members' Show
This is an opportunity for members to share up to three digital images, with helpful feedback from professional photographers. Please visit the Gallery page at www.cvps.org for the digital file criteria.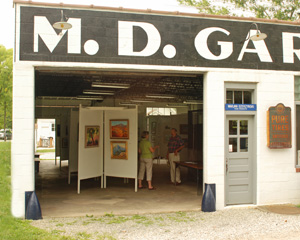 ©D.J. REISER

Art @ M.D. Garage
Art @ M.D. Garage is a series of free art exhibitions organized and coordinated by the Crooked River Gang, a volunteer group that promotes art in the Cuyahoga Valley. The M.D. Garage is a 1940s gas station located in the village of Boston. 10 a.m. - 4 p.m. Most artwork is available for purchase.
Weekends in July
This Land is Your Land

Weekends in August
Our Streams and Rivers

Weekends in September
Beautiful ohio

Weekends in October (except October 11 - 12)
Celebrating Autumn
Locations:
Boston Township School House
1775 Main Street, northeast corner of SR 303 and Riverview Road, Peninsula 44264
Canal Exploration Center
7104 Canal Road, intersection of Canal and Hillside roads, Valley View 44125
Everett Covered Bridge
2370 Everett Road, 0.5 mile west of Riverview Road, Peninsula 44264
G.A.R. Hall Museum
1785 Main Street, Peninsula 44264
Happy Days Lodge
500 West Streetsboro Road (SR 303), 1 mile west of SR 8, Peninsula 44264
Howe Meadow
4040 Riverview Road, 4 miles south of SR 303, Peninsula 44264
John S. Seiberling Gallery on the Hines Hill Campus
1403 West Hines Hill Road, Peninsula 44264
M.D. Garage
Adjacent to Boston Store Visitor Center, located at 1548 Boston Mills Road, east of Riverview Road, Peninsula 44264
Did You Know?

Cuyahoga Valley National Park's namesake river flows north and south. The Cuyahoga River begins its 100 mile journey in Geauga County, flows south to Cuyahoga Falls where it turns sharply north and flows through CVNP. American Indians referred to the U-shaped river as Cuyahoga or "crooked river."