Canal Visitor Center Closure

Canal Visitor Center will be closed for construction, starting Monday, May 6, 2013. It will reopen with new exhibits in early 2014.
Riverview Road Closure

Riverview Rd from the Cuyahoga Falls line north to the Peninsula line will be re-paved, beginning the week of April 22. Expect delays. Flaggers will direct traffic. Work is expected to be completed by Memorial Day weekend.
Towpath Trail Closure

NPS has closed the Ohio & Erie Canal Towpath Trail from Hillside Road to Stone Road in Valley View. A section of the trail is not passable due to hazardous conditions caused by erosion. Towpath is expected to be open by Memorial Day, May 27.
Bald Eagle Closure in Effect

RR tracks, and 30 foot right of way on either side, are closed to all foot traffic from the Rt. 82 Bridge at Station Rd, north to the RR tracks at. The Cuyahoga R. downstream of the Brecksville Dam to the Fitzwater Rd Bridge is closed to water activities.
Bicycling Information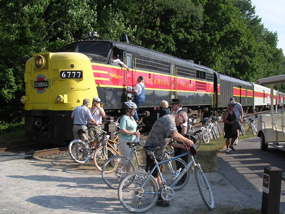 ©Paul Stoehr
The Cuyahoga Valley has Four Major Bicycle Trails For Your Enjoyment! Ride along the Ohio & Erie Canal Towpath Trail, Cleveland Metroparks' Bike & Hike Trail, the All Purpose trails in Brecksville and Bedford reservations, as well as all roads and parking lots. Bicycling is prohibited on all other trails.
Read more on our Bicycling in the Park web page.


Did You Know?

A young James A. Garfield, 20th President of the United States, worked briefly as a mule boy on the Ohio & Erie Canal, an important cultural resource within Cuyahoga Valley National Park.