Valley Bridle Trail Partial Closure

A section of the Valley Bridle Trail is closed across from the Brandywine Golf Course. There is no estimate of when this section will be open. Please observe all trail closures. More »
Plateau Trail Partial Closure

The outer loop of the Plateau Trail is closed at the Valley Picnic Area junction for bridge repair. The bridge is now unsafe for pedestrian traffice due to accelerated erosion around the base. More »
Bald Eagle Closure in Effect Until July 31, 2014

Returning bald eagles are actively tending to last year's nest within the Pinery Narrows area in CVNP. To protect the eagles from human disturbance, the area surrounding the nest tree will be closed until July 31, 2014. More »
Cuyahoga Valley Scenic Railroad (CVSR) Bridge Construction Closures

Rockside and Canal Visitor Center boarding sites will be closed through Apr 27. From Jan 18 - Mar 16, CVSR will operate between Akron Northside and Brecksville stations. From Mar 22 - Apr, CVSR will operate between Akron Northside and Peninsula. More »
Do Not Feed the Waterfowl and Birds!

Many people enjoy feeding waterfowl and birds, but the effects of this seemingly generous act can be harmful. Regular feeding can cause: unatural behavior, pollution, overcrowding, delayed migration, and poor nutrition and disease.
Closure on Fishing Will Remain in Effect for Virginia Kendall Lake

Due to the government shutdown, we were unable to survey the fish community in VK Lake as scheduled. Our survey partners (ODNR) will not be able to get into the lake until early spring of 2014. Therefore, the closure on fishing will remain in effect. More »
Bicycling Information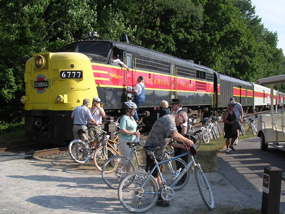 ©Paul Stoehr
The Cuyahoga Valley has Four Major Bicycle Trails For Your Enjoyment! Ride along the Ohio & Erie Canal Towpath Trail, Cleveland Metroparks' Bike & Hike Trail, the All Purpose trails in Brecksville and Bedford reservations, as well as all roads and parking lots. Bicycling is prohibited on all other trails.
Read more on our Bicycling in the Park web page.


Did You Know?

November is the time to be on the lookout for bald eagles performing aerial courtship displays. Once eagles have selected each other, they plunge through the air in very high dives, locking their talons and breaking apart just when it looks as though they will crash to the ground.