NPS Seeks Comment on Proposed Regulation for Off-Road Bicycle Trails

NPShas proposed a special regulation to designate and authorize off-road bicycle use on new trails constructed outside of developed areas in Cuyahoga Valley National Park. The public is invited to provide comment until Monday, December 15, 2014. More »
Other Closures

Valley Bridle Trail south of SR 303, across from golf course, is collapsed by river. Hard closure. Plateau Trail Bridge, north of Valley Picnic Area is closed. No detours. Plateau & Oak Hill trails are open. More »
Bicycling Information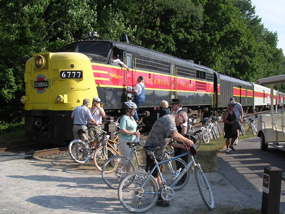 ©Paul Stoehr
The Cuyahoga Valley has Four Major Bicycle Trails For Your Enjoyment! Ride along the Ohio & Erie Canal Towpath Trail, Cleveland Metroparks' Bike & Hike Trail, the All Purpose trails in Brecksville and Bedford reservations, as well as all roads and parking lots. Bicycling is prohibited on all other trails.
Read more on our Bicycling in the Park web page.


Did You Know?

American Indians in the Cuyahoga Valley were influenced by the Hopewell Culture, which created large mound complexes in central Ohio from 100 B.C. – A.D. 500? In the Cuyahoga Valley, American Indians built small mounds rather than large ceremonial centers.