Valley Picnic Area Park Lot CLosed - Plateau Trail Loop Affected

Valley Picnic Area Parking Lot is closed for the replacement of the damaged culvert on the Plateau Trail, from dusk on Monday, September22 to 5 p.m., Thursday, October 2, 2014. Access to Plateau Trail is via the Oak Hill Trailhead. Loop unavailable.
Other Closures

Valley Bridle Trail south of SR 303, across from golf course, is collapsed by river. Hard closure. Plateau Trail Bridge, north of Valley Picnic Area is closed. No detours. Plateau & Oak Hill trails are open. More »
Bicycling Information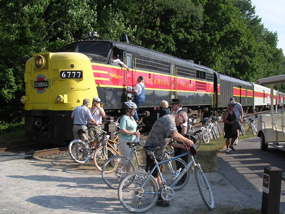 ©Paul Stoehr
The Cuyahoga Valley has Four Major Bicycle Trails For Your Enjoyment! Ride along the Ohio & Erie Canal Towpath Trail, Cleveland Metroparks' Bike & Hike Trail, the All Purpose trails in Brecksville and Bedford reservations, as well as all roads and parking lots. Bicycling is prohibited on all other trails.
Read more on our Bicycling in the Park web page.


Did You Know?

During the Great Depression, the "boys of Company 567" of the Civilian Conservation Corps helped shape the landscape that would later become Cuyahoga Valley National Park by constructing buildings, playfields, and a lake, as well as planting over 100 acres of trees.