Bicycling Information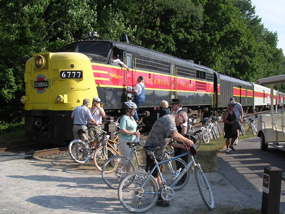 ©Paul Stoehr
The Cuyahoga Valley has Four Major Bicycle Trails For Your Enjoyment! Ride along the Ohio & Erie Canal Towpath Trail, Cleveland Metroparks' Bike & Hike Trail, the All Purpose trails in Brecksville and Bedford reservations, as well as all roads and parking lots. Bicycling is prohibited on all other trails.
Read more on our Bicycling in the Park web page.


Did You Know?

Beaver in Cuyahoga Valley National Park impounded water to create a rich, diverse wetland in an area that was once an automobile junk yard? The area is now home to herons, turtles, amphibians, beavers, muskrats, otters, and many aquatic plants.