Partial Riverview Road Closure - Updated 11/20/13

Curb, guiderail, and paving work has started on Riverview Rd between Fitzwater and Brookside roads. The road is closed to northbound traffic but remains open southbound. Work is expected to be completed by the second week of December due to weather delays More »
Closure on Fishing Will Remain in Effect for Virginia Kendall Lake

Due to the government shutdown, we were unable to survey the fish community in VK Lake as scheduled. Our survey partners (ODNR) will not be able to get into the lake until early spring of 2014. Therefore, the closure on fishing will remain in effect. More »
Bicycling Information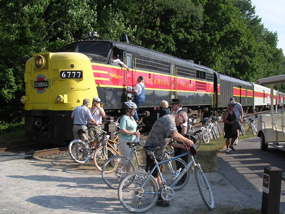 ©Paul Stoehr
The Cuyahoga Valley has Four Major Bicycle Trails For Your Enjoyment! Ride along the Ohio & Erie Canal Towpath Trail, Cleveland Metroparks' Bike & Hike Trail, the All Purpose trails in Brecksville and Bedford reservations, as well as all roads and parking lots. Bicycling is prohibited on all other trails.
Read more on our Bicycling in the Park web page.


Did You Know?

During the Great Depression, the "boys of Company 567" of the Civilian Conservation Corps helped shape the landscape that would later become Cuyahoga Valley National Park by constructing buildings, playfields, and a lake, as well as planting over 100 acres of trees.