Sustainability is managing the Earth's resources so they are passed on to future generations of all life in a healthy and abundant manner.
Although sustainability has been a major mission in the parks beginning with the 1916 Organic Act, it is only in recent years that a full fledged commitment and mandate from the NPS has occurred. It touches all aspects of our operations–design, policy, management, and interpretation.
In 2009, Cuyahoga Valley National Park employees recycled and redeemed 22,869 pounds of 'scrap' metal worth $2,738. The proceeds were deposited into CVNP's recycling account that is used to underwrite park recycling programs and efforts.


---
Cuyahoga Valley National Park introduces a new series of articles, written by our volunteer sustainability reporters, educating visitors about sustainabilty issues within the park and with its partners.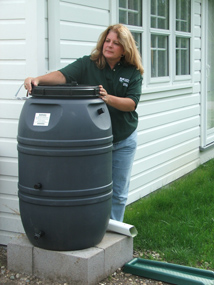 NPS/EVELYN COSSEL
Sustainability at the New Volunteer Center,
by Volunteer Sustainability Reporter Emily Bryant
As we celebrate Cuyahoga Valley National Park's new Volunteer Center, we can also celebrate efforts to make this construction project as green as possible. Historical Architect Paulette Cossel researched numerous options for sustainable features, focusing on Savacoal House which needed the most comprehensive rehabilitation.
Building rehabilitation is the retention of the historical significance of a structure with a blending of newer components. "Rehabilitation is the ultimate recycling because we are not buying new materials and not putting items in landfills. Cuyahoga Valley National Park has been in the business of environmentally friendly architecture long before the term sustainability was coined," Cossel explained.
Given the increased availability of green building products, Cossel had many choices. "There are a lot of very expensive solutions that are not economical," Cossel said. In making decisions, she prioritized using sustainable materials, saving energy, and conserving water in ways that still honor the building's historic character. One of the most exciting finds was the recycled-nylon carpet, which is available from major retailers in a variety of colors and at competitive prices. When the carpeting wears out, the park can return it to the production company to be made into new carpet. This is known as a cradle-to-cradle design because there are no waste products being sent to landfills, unlike cradle-to-grave items which are eventually thrown away. To reduce carpet wear and improve indoor air quality, Cossel added a special grate at the main door to trap dirt from people's shoes.
Other sustainable features include bio-based tile, rain barrels, cabinets made from green practices, energy efficient bulbs, touchless faucets, metal roofing made of recycled materials, storm windows, and low-flow water sense toilets with pressure assisted air technology.
While Cossel didn't feel that "green washing"—items falsely advertised as being environmentally friendly—was an issue during her research, she did have difficulty making sense of the plethora of environmentally conscious certifications associated with different products. "It would be nice if there was just one! It took a lot of time trying to find a track record and reviews for all the green components of the center. A lot of the products haven't been on the market long, so it's difficult to find assessments on how well they will hold up," Cossel explained.
As volunteers begin using Savacoal House, Cossel hopes that they will be inspired to consider green products when tackling their own home improvement projects.

---
Protecting the Cuyahoga River
by Volunteer Sustainability Reporter Emily Bryant
Get Involved!
---

E-cycling at Cuyahoga Valley National Park,
by Volunteer Sustainability Reporter Emily Bryant
Get Involved!
E-cycle through your local community. For example, Summit Country residents can drop off unwanted computers and other electronics at the Household Hazardous Waste Recycling Center, 1201 Graham Road, Stow, during business hours. For more information including a list of acceptable items, call (330) 374-0383 or visit www.saswma.org.