Rockside Station Pedestrian Bridge Opens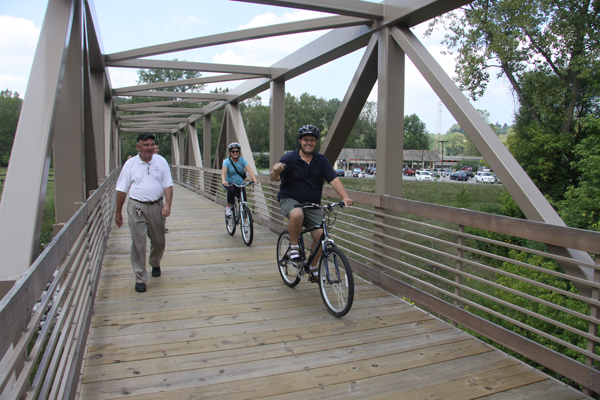 NPS/ Dennis Hamm
Date:
August 29, 2013
Contact:
Mary Pat Doorley, CVNP
, 440-546-5995, 440-343-7355 (cell)
Brecksville, Ohio – Cuyahoga Valley National Park (CVNP) announced today the opening of the Rockside Station Pedestrian Bridge in Independence. The pedestrian bridge improves visitor safety by taking visitors off of busy industrial roadways and providing safe and convenient access between the Cuyahoga Valley Scenic Railroad (CVSR) and the Ohio & Erie Canal Towpath Trail.
In 2012, $1,356,976 in funding was obtained from the Paul S. Sarbanes Transit in Parks (TRIP) Program of the Federal Transit Administration for construction of a 240-foot long pedestrian bridge over the Cuyahoga River to link the Rockside Boarding Area to Lock 39 Trailhead on the Towpath Trail. The connection enhances the very popular Bike Aboard! Program that allows park visitors to ride their bike on the trail one way through the park, and then flag down the train at any of the 8 stations in the park to ride the train back to their point of origin for a nominal fee.
"We are grateful to the funding we have received," said Cheryl Schreier, Acting Superintendent of CVNP. "The bridge is a critical component in the improvement of multi-modality of the park's existing Alternative Transportation System, as it directs and safely connects trail users with the train."
"CVSR has served an average of 21,000 Bike Aboard! passengers each year since its inception in 2008. We are thankful for the improvement to the safety of the program—the pedestrian bridge which is built over the Cuyahoga River, is a beautiful gateway to the Ohio & Erie Canal Towpath Trail for all users," stated Craig Tallman, President and CEO of CVSR.
Rockside Station is located at 7900 Old Rockside Road, one block north of Rockside Road off Canal Road, Independence 44131.
CVNP encompasses 33,000 acres along the Cuyahoga River between Cleveland and Akron, Ohio. Managed by the National Park Service, CVNP combines cultural, historical, recreational, and natural activities in one setting. For more information visit www.nps.gov/cuva or call 330-657-2752.
-NPS-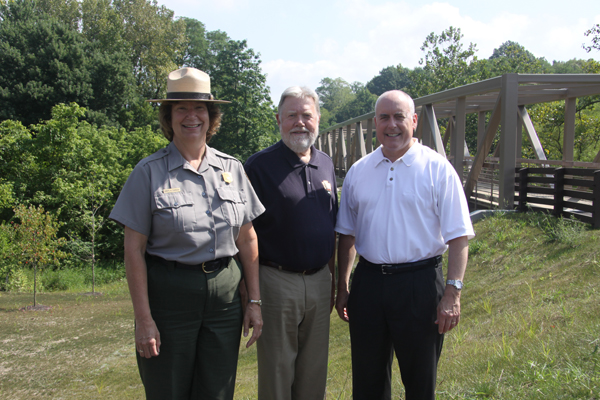 NPS/ Dennis Hamm