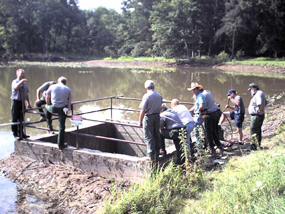 NPS COLLECTION
The National Park Service strengthened the Kendall Lake Dam that was overtopped by flooding in 2003.
The National Park Service has completed its work correcting hydrologic deficiencies of the Virginia Kendall Lake dam and dredging sediments from the lake bottom. While lake levels were lowered during construction, approximately 4,500 native warm water fish were collected and transferred from the lake to other locations. Fingerling size largemouth bass, bluegill and channel catfish will be re-stocked in 2010. Therefore, the lake is closed to all fishing beginning March 15, 2010 and will remain closed for 3 to 4 years in order to protect and restore the native fish community while they grow to a catchable size and provide for future quality fishing opportunities.

Kendall Lake Dam is located at 1000 Kendall Park Road, Peninsula, Ohio 44264.