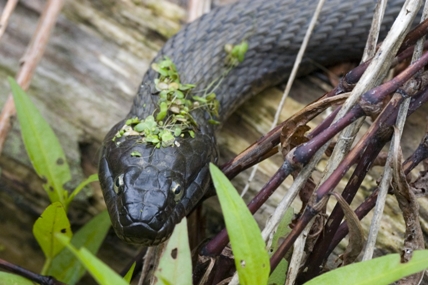 ©JIM SCHMIDT
Observant visitors exploring the Beaver Marsh or other wetlands along the Cuyahoga River are sometimes rewarded with the sight of a northern water snake sunning itself on a half-submerged log or a common snapping turtle peering through the duckweed covering its head like a veil. Twenty species of reptiles are found in CVNP including 11 snakes, 8 turtles, and 1 skink. All species are native with the exception of the red-eared slider, a non-native turtle species.
No poisonous snakes have been found in the park, although two species—northern copperheads and Massasauga rattlesnakes (an endangered species in Ohio)—have been identified in nearby counties. The stocky, dark-colored Northern water snake is sometimes mistakenly identified as a water moccasin, a poisonous snake not found in the state.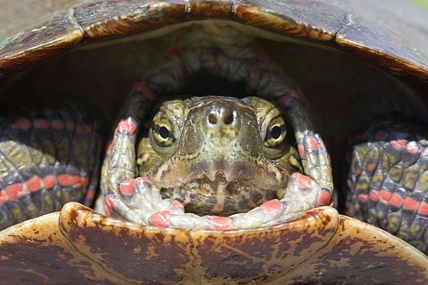 ©JIM SCHMIDT
The spotted turtle, a state listed threatened species, was observed in the park in 2008. Two other species of turtles—the eastern box turtle, and Blanding's turtle—have been designated species of special interest in Ohio. These species, like all species of animals and plants within CVNP, are protected.