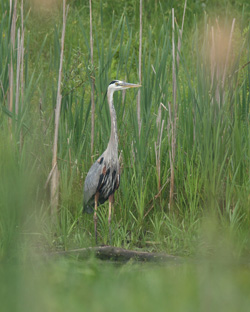 ©ED TOEREK
---
The great blue heron is an impressive and increasingly common sight in the Cuyahoga Valley.
---
The success of nesting colonies in the valley is a reflection of favorable habitat created by beavers, along with protection of the valley by the National Park Service; Cleveland Metroparks; Metro Parks, Serving Summit County; the City of Akron; and other organizations and individuals.
To learn more about great blue herons and the best places to observe them, read our Great Blue Herons site bulletin.
Read the Great Blue Heron Monitoring Report for 2012.
View the gallery below for some photos taken at the valley's heronries. Click on individual photos for each photographer's name and click here for copyright restrictions.
Inspirational Poetry
Jill Sell, co-founder of the Cuyahoga Valley Nature Writers, wrote this award-winning poem inspired by our valley's herons.
Rookery
surely this is something
only Dr. Seuss would have imagined
hundreds of unkempt stick nests
mere platforms
perched precariously
lined with moss, twigs, pine needles
feathers and prayer
on upper limbs
of condo trees

repaired year after year
some four feet across
others, less stable
only for nerd birds, outcasts

great blue heron
big cranky
long john
blue crane
---whatever its name on
the apartment door---
settles down
folding seven-foot wingspan

even from its lofty perch
bird sticks neck out
keeps watch
for salamanders, frogs, snakes
to be speared like a shish-kebob
(the greedy have been known to die
trying to swallow a fish too large)

suddenly a train roars by
beneath the colony
whistle blows
herons rise from homes
flapping indignation
but return at once
not having locked themselves out --
a bird benefit


Bath Road Heronry

11 Photos

Bath Road Heronry is a local favorite of wildlife watchers. From mid-February through June, great blue herons build over 140 nests and raise their young high above the passing cars.