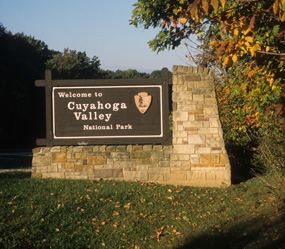 ©D.J. REISER
---
A number of laws and policies guide the management of Cuyahoga Valley National Park, starting with the enabling legislation that created the national park.
---

Park Creation
December 27, 1974, P.L. 93-555 (Cuyahoga Valley National Recreation Area).
Managed by the National Park Service, a bureau of the U.S. Department of the Interior.
Name Change Legislation by U.S. Congress
October 11, 2000, P.L. 106-291 (Cuyahoga Valley National Park)
---
Legislative History
, 1992
---
NPS Policies
For more information about the policies that guide the National Park Service as a whole, including Management Policies 2006 and specific policy topics, visit the .
---
Regulations
Park rangers enforce a number of federal regulations in the park, including the Code of Federal Regulations, Title 36 (36 CFR), and the United States Code, Titles 16, 18 and 21.
Within 36 CFR, park superintendents are granted the right to make park-specific regulations. The is the document that spells out Cuyahoga Valley National Park's regulations.
---
Permits
Certain types of activities require a special use permit, such as organized runs, bike rides, walks or horse rides, weddings, photography, filming, specimen collecting, and many other events. Visit our permits page for more information.
---
Firearms Regulations
Legislation: As of February 22, 2010, a new federal law allows people who can legally possess firearms under applicable federal, state, and local laws to legally possess firearms in this park. Refer to .
Park User Responsibility: It is the responsibility of visitors to understand and comply with all applicable state, local, and federal firearm laws before entering this park. As a starting point, please visit our state's website: www.ohioattorneygeneral.gov/Enforcement/Concealed-Carry. Refer to the for more information.
Weapons Prohibited in Federal Facilities: Federal law prohibits firearms in certain facilities in this park; those facilities are marked with signs at all public entrances. This includes, but is not limited to, Park Headquarters buildings, Happy Days Lodge, Canal Exploration Center, Boston Store Visitor Center, Peninsula Depot Visitor Center, and Hunt House. It is also illegal to possess firearms within the boundaries of the Cuyahoga Valley Environmental Education Center property. Refer to .
Hunting is Prohibited in the Park: Federal law prohibits hunting and the discharge of firearms in the park. Refer to 36 CFR 2.2(a)(1) and 36 CFR 2.4(a)(1)(iii).
Contact Information: Cuyahoga Valley National Park Chief Ranger's Office at (440) 546-5940 or (440) 546-5944