Late 19th and Early 20th Century
While the canal boom years ended, farming remained as a way of life and work for most Cuyahoga Valley residents. Many were dairy farmers. They could easily ship fresh milk and butter to cities like Cleveland by railroad. Farm life around the turn of the twentieth century remained rougher than town life. When electricity, indoor plumbing, and phone lines arrived in the valley's villages, these modern conveniences passed over remote farms until decades later. Mothers cooked family meals over wood-burning stoves and lit rooms with lanterns and candles. Farmers plowed fields by mule, transported their crops by wagon, and kids walked or rode horses to school.
---


Kids Asked, We Answered!
Click the questions to play video of real kids getting answers from park experts.

How much free time did kids have?
---
In Their Own Words! To learn more about what it was like to grow up in the Cuyahoga Valley in the early 20th century, read quotes from three long-time residents: Helyn Toth, her cousin Clark Morris, and Helen Conger.
---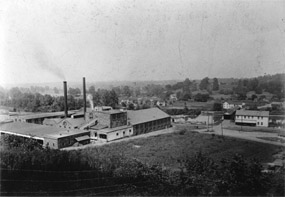 NPS Collection
Mill Towns and Tourist Trains
Some stone quarries, mills, and factories stayed open after the canal era. And not all of the valley's once booming canal towns went bust. A paper mill that made roofing paper and flour sacks expanded the village of Boston between 1900 and 1923. Many of its workers were Polish immigrants who lived in company-built wooden houses. Boston became enough of a company town in the first decades of the twentieth century that its train depot was renamed Boston Mill. Cuyahoga Valley National Park's Boston Store Visitor Center features some historic photos of early twentieth-century life in Boston.
Another company town was Jaite. The Jaite Paper Company built a paper mill along the Cuyahoga River in 1905. Jaite Mill made flour and cement bags for more than 75 years. CVNP now owns the mill site. It converted the remaining company houses and store into offices for park headquarters.

---
In Their Own Words!

Click the topics below to hear stories about working at the Jaite Mill.
Click here to read the following text file.

Jaite Mill Products (52 seconds)
Working with Friends and Family (33 seconds)
Josephine Davis, who grew up in Brecksville, talks about working for the Jaite Paper Company.
---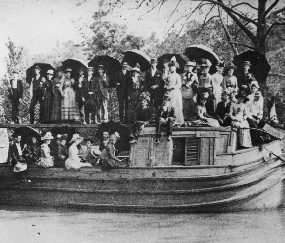 NPS COLLECTION
A new kind of industry was coming to the Cuyahoga Valley by the late 1800s—tourism. Early pioneers couldn't imagine that the steep rocky hills and shallow Cuyahoga River they battled would someday became a playground for city folk. But it did! Families from Cleveland, Akron, and other crowded industrial cities saw the valley as a peaceful, natural place to escape to. They came by canal and train—and later car—on weekend daytrips and summer vacations. Inns, boat rides, scenic train trips, roadside stands with farmers selling their produce, and other tourist attractions became part of the valley. The recreational value of the Cuyahoga Valley was what led it to eventually become the national park it is today.