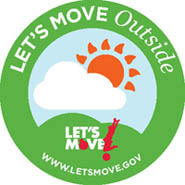 Let's Move Outside
Regular exercise in nature is proven to improve children's physical and mental health. Outdoor activity helps kids maintain a healthy weight, boosts their immunity and bone health, and lowers stress.
Let's Move Outside, administered by the Department of Interior, was created to get kids and families to take advantage of America's great outdoors. Kids need at least 60 minutes of active and vigorous play each day to stay healthy, and one of the easiest and most enjoyable ways to meet this goal is by playing outside.
Click here to visit our Schedule of Events page to find family-friendly outdoor activities at CVNP.

Click here to learn more about the Let's Move Outside campaign.
---