Clark Morris: Early Life in the Valley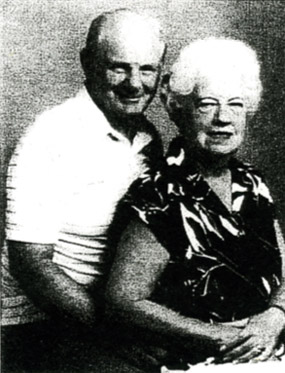 Courtesy/Clark Morris
Who Was Clark Morris?
In the opening pages of Early Life in the Valley, Clark Morris describes himself as "just an old man, born and grown up in the Peninsula Valley from the start of one century [the 20th century] to the beginning of another [the 21st century]." He continues by stating that he is "looking back on things that stuck in the mind of a kid who lived it." Clark Morris was born in Richfield, Ohio in 1916 and died in Cuyahoga Falls, Ohio in 2007, but spent much of his life living in Peninsula, Ohio. Clark Morris worked as an automobile mechanic. He and Helyn Toth and Helen Conger, who are also featured in this project, were cousins. With the help of a friend, he recorded his memories in 2001.
---
In His Own Words
Although he did not provide dates to tell us exactly when things happened, long-time resident Clark Morris paints a colorful portrait of life in Peninsula, Ohio. The following are
quotes describing his boyhood.
School
"[In winter,] most forget about school. Up to now, things are about normal. But with snow and wind comes snow drifts. Folks on Oak Hill were brought to school by bobsled, those pulled by horses."
Earning Money
"We kids out of school. Time to look for a summer job…Farmers are needing help…Time to fluff the straw on strawberries so the sun can get to the plants, planting onions, radishes, and cleaning asparagus beds. Cutting dead stalks from the red and black raspberry bushes, most anything to keep busy…
Then there was times Buster Chamberlin needed to unload a car of coal. The cars carried 52 tons. What a job for a man and a boy, Grove Johnson the man, and me the boy, and for $1.00 a ton. Chamberlin's was one of three coal yards in our town [Peninsula, Ohio]. Must not forget mowing the lawn for Miss Steel…She paid 10 cents an hour. She also had rugs to beat with a big wirebeater. We don't do that anymore…
We did have a circus come to town. They set up on the lot across from Bigelow's Garage, the schoolyard and at Helen Morris Conger's, which was an empty lot at that time. The boys got jobs setting up tents and watering horses and elephants. They then were given tickets to see the show…
Mr. Jolly was rural route mailman. The mail cart was a special built, boxy sort of a wagon pulled by one horse. Reins were put through slots just below the front window. He delivered all kinds of mail, from post cards to baby chickens in any kind of weather. My cousin and I had the job of cleaning the horse stall for 10 cents everyday. Spent it on bananas at Mr. Harrington's store."
Having Fun
"The young people hoping for enough snow to slide on. Maybe cold enough to freeze the canal, or dug-way, for skating…
There is swimming at the stone quarry, fishing, hunting bullfrogs, checking pinnacle for dewberries, and checking stumpy basin for Lady Slipper and Showy Orchid…
There was always time to build some kites. The hard part was finding the sticks. Plenty of newspaper. Or, we could buy a kite for a dime. There was a fellow by the name of Payne, forget first name, but was the son of the man what ran the bank. He had a box kite and miles of string. When he flew it, it would be over the town of Boston. The hard part about that was reeling it back down…
Talking about picnics, there was always Peninsula Homeday that was held back of the old schoolhouse. There were lots of games, like climbing the greased pole, the three-legged race, potato sack race, egg throwing and my favorite, the watermelon-eating race. The melons were cut in equal parts. You were judged how quick and how clean when you were done. Nevermind the seed, just eat them. The prize I always won was a two bladed jackknife."

Early Automobiles
"…Stopped at Dan Billing's garage…Went in the back door to visit Mr. Keller. He had just unloaded a Model T Ford. They came in boxcars back then. Mr. Keller had to put the cars together."
---
Bibliography
Clark Morris. Early Life in the Valley. [city unknown]: self-published, 2001.