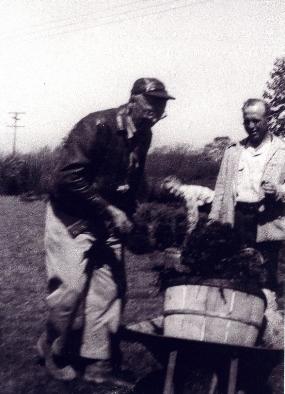 Courtesy/Arline Wellington
During the 1930s, the Civilian Conservation Corps (CCC) operated a tree nursery in Everett, part of the federal government's reforestation program. They planted evergreens in the Virginia Kendall area and elsewhere.
Eugene Cranz, of Bath, was instrumental in replacing dying American chestnut trees with Chinese evergreens. Beginning his work in the 1920s, Eugene was one of the first men in Ohio to become involved in the reforestation movement. He promoted fencing cattle to keep them out of wooded lots and re-planting trees on land that was once cleared. In honor of his efforts, a variety of nut tree, the Cranz hickory, was named for him. Eugene's trees can still be seen today on the Cranz property near Hale Farm & Village. He planted the evergreen trees which surround the house, as well as many of the trees covering the hill to the east. In 1949, Eugene Cranz's farm in Bath was dedicated as Ohio Tree Farm Number 81, reflecting his concern for forest loss in the state.
In the 1940s, the Boucek family had a house (now the Concasi property) and nursery on SR 82, just west of Chaffee Road. Fred Boucek grew and sold ornamental trees for landscaping and as Christmas trees, and did landscape work himself.
Today, the tradition is continued by Carol and George Haramis sell Christmas trees at Heritage Farms in Peninsula.