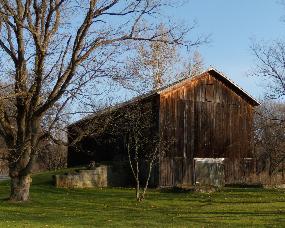 ©Denny Reiser
On the Stanford farm during the late 19th century, George and his son, George C. Stanford, worked in close harmony, expanding their operation to include not only the cultivation of crops, but also dairying and lumbering. Both George and his son were also very active in local politics, serving many positions in public office, including Justice of the Peace. After his father's death in 1883, George C. Stanford inherited the farm and continued to raise wheat, cattle, and sheep.
Click to read a first-hand account of life on the Stanford Farm in the 1920s.


George C. Stanford's daughter Ellen eventually passed the farm along to her nephew, Ernest Dickenson. Rena Fiedler, lifelong valley resident, remembers growing up on her grandfather Ernest's farm. Click the link below to hear Rena talk about life on the Stanford Farm in the 1930s.