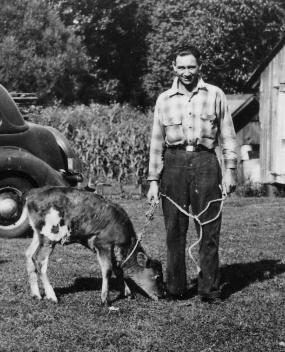 NPS Collection
As with produce, the profitability of livestock depends upon market forces and the quality of land available. Early farmers had few livestock, mostly for personal consumption. The canals and railroads of the mid-19th century made it worthwhile for farmers to breed and raise cattle. Cheese factories, which purchased unprocessed milk from local dairy farms, began to spring up along the canal by the late 1840s. This caused the value of milk produced in the valley to skyrocket-nearly tripling between 1870 and 1910. As the dairy business became more profitable, farmers invested more time, money, and energy into their livestock. Farmers purchased breeds of cattle known for higher yields, fed their cows specialized grains, and kept them in barns during the winter to increase milk production. Although the cheese factories in the valley diminished, dairy farms continued to operate throughout the 20th century.
Click to learn more about the Point Farm dairy operation in Everett.
Click to learn more about Cuyahoga Valley cheese factories.