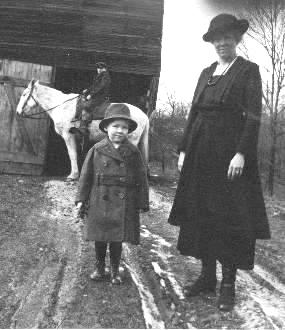 Courtesy/Bath Township Historical Society
More than a place of work, each farm was a family home. Farming could be risky, and choosing that life for your family was a decision not taken lightly. Raising a family on a farm presented both challenges and rewards. An unsuccessful farm could bring poverty, sacrifice, and starvation. The family's livelihood often depended on uncontrollable and unpredictable factors, such as the weather and length of seasons. A fruitful harvest, however, could mean a bountiful supply of food and extra income. Even after many years on the farm, parents continued to make daily decisions based on the interests of their family's needs.
Living in rural communities often meant more difficult access to education, health care, or other services. On the other hand, farm life instilled a solid work ethic and sense of community. Before electricity, automobiles, and television, farm families entertained themselves with social gatherings and large meals where neighbors could congregate and converse. For those who loved the land, the farm was a wonderful, if sometimes adventurous, place to raise a family.