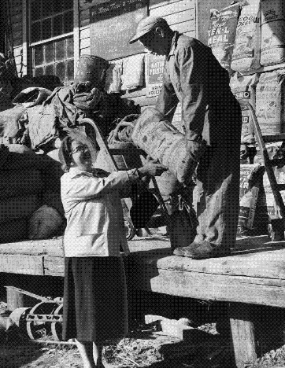 Courtesy/Cleveland Press Collection
Mid-19th century communities in the Cuyahoga Valley thrived as canal and mercantile towns that linked the growing cities of Cleveland and Akron. The Village of Peninsula, for example, received money and fame as canal traffic and boat building attracted visitors and new industry, including gristmills and cheese factories. Even after the canal's economic decline and eventual collapse, villages continued to act as commercial centers for surrounding farmers.
A visitor to Peninsula in the late 19th or early 20th centuries could step off a train or canal boat and see a town hall, schoolhouse, meeting hall, tavern, and dance hall as well as several churches, general stores, and sandstone quarries.
Although farmers were mostly self-sufficient, they still needed supplies and services from other businesses. Click the following topics to learn more about the local businesses that supported agricultural life throughout the 19th and 20th centuries.

Boot-legging Water Hauling
General Stores Wilson Feed Mill
Terry Lumber & Supply