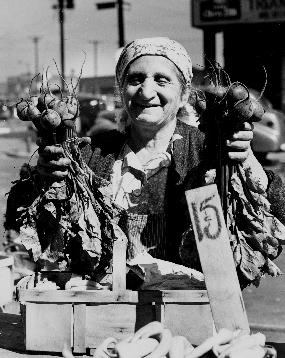 Courtesy/Cleveland Press Collection
Nineteenth-century improvements in transportation allowed Cuyahoga Valley farmers to take advantage of markets in Cleveland and Akron. Before the canal was completed in 1827, farmers had to take their produce by wagon to the mouth of the Cuyahoga River to be shipped to larger markets. Often, a farmer's produce would spoil on the way to Cleveland, left on shore waiting for a delayed boat. With the canal and later the railroad (in use by 1852), farmers could more easily ship products and buy machinery. For example, dairy farmers could ship milk and cheese to the growing consumer markets with less risk of spoilage.
From the 1840s onward, many regional farmers traveled to Cleveland's West Side Market to sell their products. The city contained additional markets in operation during the 19th and 20th centuries, including the Central Market (later the New Central Market), and the Sheriff Street Market. The farmers' market in Akron operated on Beaver Street from the 1920s through the 1970s.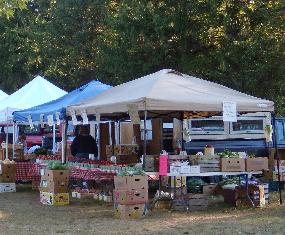 ©Denny Reiser
Modern farmers currently take advantage of the increasing popularity of farmers' markets, both in and outside of the Cuyahoga Valley. To prepare for the market, farming families work hard to pick and polish fruits and vegetables for sale. On market day, farmers get up early, drive their products to market, and interact with crowds of customers. Farmers' markets also offer exciting venues for farmers to exchange ideas, and for customers to support local and healthy foods.
Click to learn more information about Countryside Farmers' Markets and how farmers prepare to sell their products.

---
In Their Own Words

Click the topic to hear stories about Cuyahoga Valley life.
Click here to read the text file
.
Cleveland Markets
(34 seconds)
Irene Kusnyer, who grew up on the Szalay farm in Everett, describes how her relatives spent long hours travelling to the Cleveland markets, waking up at 2 a.m. and returning later that night.
Farmers' Market in Akron (36 seconds)
Lee Darst, who worked with her father on the Bender Farm in Northampton from the 1950s through the 1970s, shares her memories about the farmers' market in Akron.
---