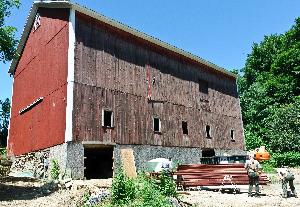 NPS/Ted Toth
Through his perseverance and innovative spirit, Earva Bender developed a thriving vegetable farm that rivaled the neighboring Szalay Farm. Without children of their own to share the labor, Earva and his wife hired families to live and work on their property. As each new season arrived, Earva and his hired workers planted, harvested, and sold crops at a roadside stand and a farmers' market. Always thinking of new ways to improve his operation, Earva built a greenhouse that allowed him to bring ripe tomatoes to the farmers' markets earlier in the season than his competitors. Earva planted 100 acres of sweet corn, tomatoes, watermelons, and pumpkins on bottomland beside the Cuyahoga River. By the 1940s, the Benders' vegetable stand on Akron Peninsula Road had become a local landmark.
Click to read more about the history of Brown-Bender Farm.
Work on the farm never ceased, and every day brought new successes or failures to overcome. Listen below as Earva Bender's former workers share their experiences on the farm.