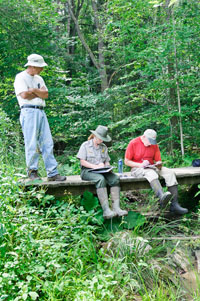 NPS/ Ted Toth
CVNP VOLUNTEER HANDBOOK
The Volunteer Handbook is designed as a reference and guide to Cuyahoga Valley National Park (CVNP) and our Volunteers-in-Parks Program. The Handbook was updated October 2014 and we invite you to devote special attention to the updated uniform (pg 14), workers' compensation (pg 29), and training (pg 34;66) sections. Click here to download your copy of the 2014 CVNP Volunteer Handbook.
Addendums to the CVNP Volunteer Handbook:
- Uniform Policy
Click here to download the Uniform Policy.
- Injury and Workers' Compensation Policy for Volunteers
Click here to download the Workers' Compensation Policy.
---
CVNP VOLUNTEER ORIENTATION
Location given upon registration
Want to volunteer in your national park? Attend this classroom-style orientation to learn more about CVNP and the Volunteers-in-Parks Program. Complete within your first six months of volunteering, but it is not required before you get started.
---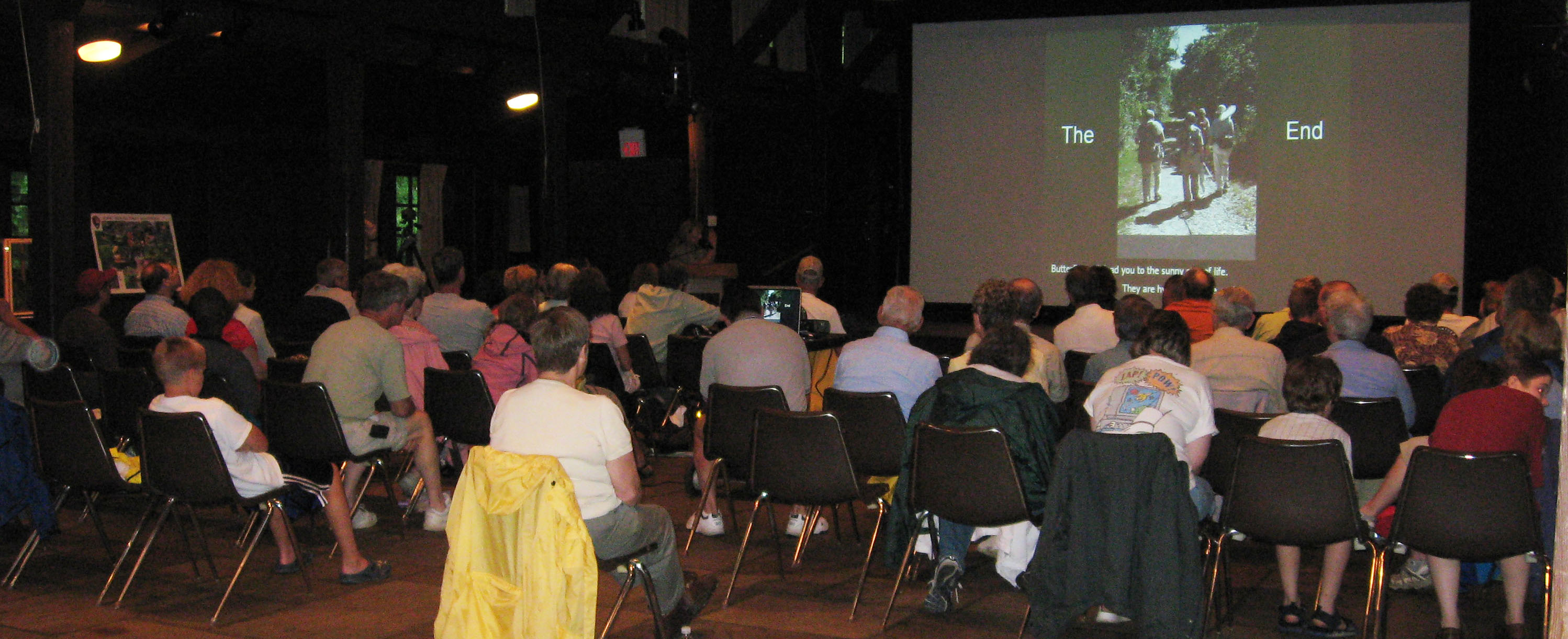 NPS/Shelby Lewis
VOLUNTEER ENRICHMENT SERIES (Free; No pre-registration)
Second Tuesday of the Month, 6:30 - 8 p.m.
Happy Days Lodge (unless otherwise noted)
Get the latest scoop about hot topics from park and community experts! This series will help you excel as a park steward. Refreshments begin at 6:30 p.m. (unless otherwise noted) and lectures are from 7 - 8 p.m., unless otherwise noted. You may bring a guest. Happy Days Lodge is located at 500 West Streetsboro Road (SR 303), 1 mile west of SR 8, Peninsula 44264.
2016 Topics and Speakers:
Dreaming Bigger, Doing Better –An Introduction to Volgistics
Tuesday, February 9, 2016, 6:30-8:00 p.m.
(Sara Curtis, Project Manager for the Conservancy for Cuyahoga Valley National Park)
Dreaming Bigger, Doing Better CVNP's new online volunteer hour tracking program, Volgistics is making its debut!Program specific training has already begun and we are excited to share the most current update of this project.Join Project Manager Sara Curtis for a peek into your new personalized volunteer portal.View the features that will now be available to you from anywhere you can access the internet, hear quick tips and tricks for use, and take part in a FQA session.Future program specific training dates will also be available.
Note: This Enrichment will be from 7-8:30 p.m.;This Enrichment will not be a full training session, but rather an in-depth look at the new program.
Training Dates:
Sunday, January 31, 2 - 4 p.m.
Sunday, February 21, 2 - 4 p.m.
Sunday, March 13, 2 - 4 p.m.

Nesting Great Blue Herons
Tuesday, March 8, 2016, 6:30-8:00 p.m.
(Andrea Irland &Peg Bobel, Cuyahoga Valley National Park Volunteers and Citizen Scientists)
For more than 20 years, Great Blue Herons have nested at the Bath Road Heronry in Cuyahoga Valley National Park and CVNP Volunteers Andrea Irland and Peg Bobel have spent those years observing and monitoring the herons at this site.The Great Blue Herons have become local celebrities and their return and nesting is an anticipated ritual of winter turning into spring!Join Andrea and Peg to gain insight into what their years of wildlife monitoring has revealed about this sentinel bird of the Cuyahoga River.

Milestone Awards Presentation / Results of the Visitor Survey
Tuesday, April 12, 2016, 6:00-8:00 p.m.
(Jennie Vasarhelyi, Chief of Interpretation, Education, and Visitor Services)
Join us in celebrating volunteer milestones of 250+ hours of service.

In summer 2015, many volunteers assisted with distributing surveys for our first comprehensive survey of park visitors in ten years.Chief of Interpretation Jennie Vasarhelyi will share the survey results. Join us to learn about who is visiting the park, what they do while they are here, and what they think about their park experience.
Catching up with the Conservancy for Cuyahoga Valley National Park
Tuesday, May 10, 2016, 6:30-8:00 p.m.
(Conservancy for Cuyahoga Valley National Park Staff)
In 2016, the Conservancy for CVNP continues to raise the bar and invent new ways to help CVNP reach its full potential.Various Conservancy staff will share information about new programs and projects in the park that will assist you in telling the public about ways they can become more deeply engaged with our favorite park.
TRAINING IN SAFETY (Free)
Location given upon registration
CPR/AED/First Aid
Participants will learn Full CPR for children, adults, and infants; AED; First Aid; and protecting yourself from bloodborne pathogens.
All CVNP volunteers are invited to attend. CVNP volunteers required to attend have first priority, everyone else will be placed on a waiting list. Find the updated safety requirements by volunteer position in the Volunteer Safety Training Appendix.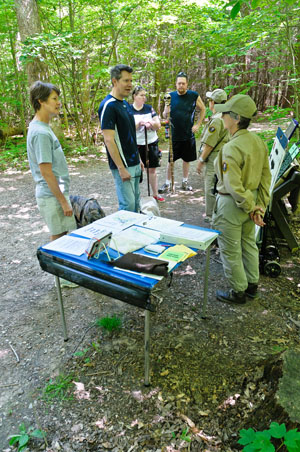 NPS/Ted Toth
TRAINING IN INTERPRETATION (Free)
Location given upon registration

Foundations of Interpretation
This class can also be taken online for free. Please scroll to "Online Training" for more information. Designed to provide a basic understanding of the theory and practice of interpretation, the course is ideal for volunteers who are communicating to visitors the stories of the park.
Informal Interpretation
This course captures the spontaneous types of interactions interpreters have with visitors, both informational and interpretive. Foundations of Interpretation is a pre-requisite for this course.
ONLINE TRAINING (Free)
Online training courses are available through the Eppley Institute. Click on the course names below for more information:
If you take an online course, please send your certificate of completion to the volunteer office atvolunteer@forcvnp.orgor fax it to 330-657-2381.
*To receive the discount code for classes that have a fee, contact Park Ranger Josh Bates at 330-657-2350 ore-mail us.This is an option if your volunteer position requires training in interpretation and you are not available to take the class when it is offered in the park.
PARK AMBASSADOR CONTINUING EDUCATION
Park Ambassadors are responsible for providing excellent visitor services at Cuyahoga Valley National Park. To ensure volunteers have the knowledge base, all Park Ambassadors will be required to attend a total of two interpretive programs/trainings per year. And, all Hike Assistants are required to hike four different additional trails per year while not on duty as a Hike Assistant.
Program specific training has begun for our new online hour tracking program, Volgistics! If you have already attended a training, please click
here
to access your profile. If you have not attended a training yet, please watch for your upcoming invitation to attend a training. When you attend training, you will be issued a username and password to access your profile.
If you have questions, please contact Sara Curtis, Volunteer Services Project Manager, at
scurtis@forcvnp.org
or 330-657-2299.