Habitat Restoration
HABITAT RESTORATION VOLUNTEER OPPORTUNITIES
Help preserve biodiversity in your national park!

Sign Up:
Advance registration is recommended; and required if you are with a group of five (5) or more. To register, contact the volunteer office at 330-657-2299 or volunteer@forcvnp.org.

Things to know before you come:
Wear comfortable work clothes, long pants (preferably jeans), and sturdy shoes or boots (must be closed toe). Bring your completed

Volunteer Agreement Form

, full water bottle, work gloves, snack, hat, and sunscreen.

We will provide work gloves, safety glasses, and all necessary tools, and supplies. Instruction and safety guidelines will be provided on-site.

Meet at the listed "Meeting Location" at the start time - instructions will be provided, and then the crew will hike to project site together.

Projects are rain or shine, with exception to thunderstorms and lightning.

---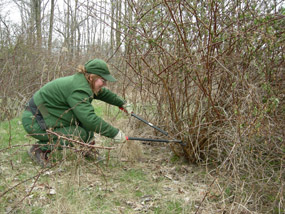 Remove Invasive Plants
Use hand tools (loppers and saws) to remove invasive shrubs, such as honeysuckle and autumn olive, and pile the cut vegetation. Youths aged 10 to 15 welcomed but require parent or guardian supervision at the project site. Unsupervised youths aged 16 and 17 require a completed Volunteer Agreement signed by parent or guardian. Groups welcomed; if more than 5 in your group, advance registration is required."
2015 Schedule
May - October, second Thursday, 1 - 4 p.m, locations to be announced

June and July, fourth Saturday, 10 a.m. - noon, locations to be announced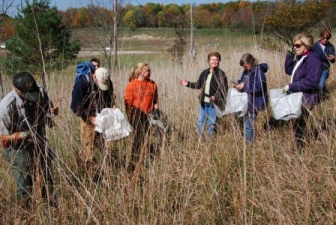 Photo by Dedee O'Neil
Collect Seeds from Native Plants
Participate with a small-sized crew to collect seeds from native plants. Project includes a short, off-trail hike. Groups and families with kids welcome. If more than 5 in your group, advance registration is required so we can check availability.
2015 Schedule
September and October, every Thursday, 1 - 4 p.m., locations to be announced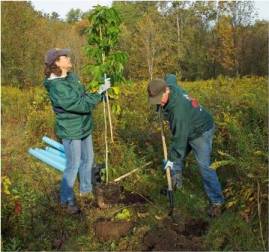 Plant Trees and Native Vegetation
Help restore CVNP's native habitat by planting trees, shrubs, and other native vegetation. Ages 7 and up with parent or guardian supervision. Ages 16 and up with a parent or guardian-signed Volunteer Agreement. Advance registration is required for planting projects to volunteer@forcvnp.org or 330-657-2299. Click on the event names for more information.
2015 Schedule
Dates and details coming soon!