Canal Visitor Center Closure

Canal Visitor Center will be closed for construction, starting Monday, May 6, 2013. It will reopen with new exhibits in early 2014.
Riverview Road Closure

Riverview Rd from the Cuyahoga Falls line north to the Peninsula line will be re-paved, beginning the week of April 22. Expect delays. Flaggers will direct traffic. Work is expected to be completed by Memorial Day weekend.
Towpath Trail Closure

NPS has closed the Ohio & Erie Canal Towpath Trail from Hillside Road to Stone Road in Valley View. A section of the trail is not passable due to hazardous conditions caused by erosion. Towpath is expected to be open by Memorial Day, May 27.
Bald Eagle Closure in Effect

RR tracks, and 30 foot right of way on either side, are closed to all foot traffic from the Rt. 82 Bridge at Station Rd, north to the RR tracks at. The Cuyahoga R. downstream of the Brecksville Dam to the Fitzwater Rd Bridge is closed to water activities.
Get Up Get Out and Go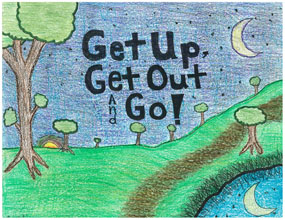 ©Austin Kowalczyk, Innes Middle School
---
Get up, get out and go to your local parks for fun-filled activities this summer!
---
What Is It?
Get Up, Get Out & Go! (GGG) is a FREE outdoor recreational program for kids ages 11 to 14 and their families to get out into their national park and Akron and Cleveland area Metro Parks.
When Is It Held?
Regular programs are Mondays and Wednesdays in Cleveland,Tuesdays and Thursdays in Akron. All programs are from 7 to 9 p.m., and include wilderness training, night hiking, cycling, and fishing. Locations vary. The 2013 schedule will be out soon. Check back here in March.
How to Participate
Registration is encouraged. For more information call (440) 343-7035 or visit www.forcvnp.org.
Thank You to Our Community Partners
Akron Public Schools, Akron Recreation Bureau, Metro Parks Serving Summit County, Slavic Village Development, and University Settlement House.
This program is provided through the generous support of the following:
GAR Foundation
Cuyahoga Valley Scenic Railroad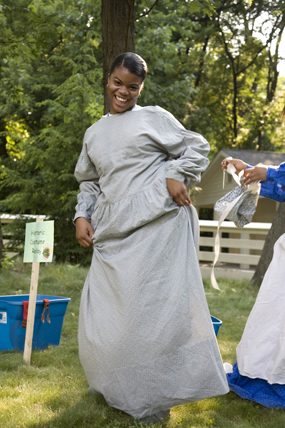 ©SARA GUREN
Interviews With Kids
In summer 2009, Volunteer Youth Reporter Katie Naymon interviewed kids attending several Get Up, Get Out & Go! programs to find out what they liked best about the park. Here are the highlights.
Trying New Things, Making Friends
"I would do the program again because it's really fun to meet new people." Devin, age 10, Akron

"We get to listen to the audio [tour on the train]. It's very relaxing." Elise, age 12, Akron

"It's fun-you get to do lots of stuff and meet new people. And it's free." Bridget, age 13, Akron
Learning Outdoor Skills
"Camping and fishing, yeah, that sounds fun!" Elise, age 12, Akron

"I like fishing, so I'm excited!" Devon, age 11, Akron

"The cooking at camp was fun because I like to prepare food." Razel, age 11, Akron
Exercising
We like to kick soccer balls around in the park." Demi, age 11, Akron

"I like to walk and ride bikes because I like to get exercise." Chris, age 10, Akron

"I like to play tag and to be with your friends. I like to run a little bit and also walk." Deandre, age 12, Akron
Seeing Nature


"I like to see the beauty of nature with my friends." Sierra, age 10, Akron

"We saw a blue heron. You can see so many types of animals." Rebecca, age 13, Akron

"It's fun to look at trees and find squirrel nests." Kyra, age 10, North Royalton

Favorite Places

"I love Howe Meadow because you can do a lot of stuff in the field like camping and plain old having fun!" Alexis, age 10, Akron

"I like anywhere I can just sit and talk." Kasie, age 14, Akron

"We like the fishing pond, so we can fish." Shaquoi, age 12, Copley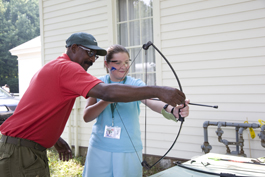 ©SARA GUREN
GO (Get Outside) Crew! Volunteers Needed
Volunteers are needed from 6 to 9 p.m. every Monday, Tuesday, Wednesday, and Thursday, to work with children participating in GGG. Volunteers will assist with train rides, fishing, biking, night hikes, and outdoor challenges.
For more information, contact Park Ranger Brady Bourquin at e-mail us or (440) 343-7035.
Did You Know?

The Ohio & Erie Canal, which runs through Cuyahoga Valley National Park, was a 308-mile waterway connecting Lake Erie to the Ohio River. This transportation route, which influenced local and national prosperity, was dug entirely by hand by mostly German and Irish immigrants.