Valley Picnic Area Park Lot CLosed - Plateau Trail Loop Affected

Valley Picnic Area Parking Lot is closed for the replacement of the damaged culvert on the Plateau Trail, from dusk on Monday, September22 to 5 p.m., Thursday, October 2, 2014. Access to Plateau Trail is via the Oak Hill Trailhead. Loop unavailable.
Other Closures

Valley Bridle Trail south of SR 303, across from golf course, is collapsed by river. Hard closure. Plateau Trail Bridge, north of Valley Picnic Area is closed. No detours. Plateau & Oak Hill trails are open. More »
Cuyahoga Valley: Your Outdoor Classroom
A crooked river, layers of ledges, waterfalls, centuries-old forests, and more wonders are waiting at Cuyahoga Valley National Park for you and your students to explore. Whether you are able to visit in person or not, there are many ways to experience parks as classrooms. Look to the park for your own professional development opportunities.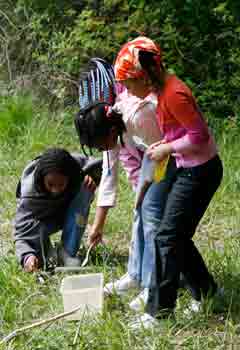 Features
Day Field Trips

Students can explore ecology, natural and Ohio history, in either the Cuyahoga Valley National Park or in their own classrooms. Pre-K - 8th grade.

Read More

Resident Program

All the Rivers Run is a 4-day/3-night program to discover plant/animal diversity, learn sustainable living, and explore the Cuyahoga River Watershed.

Read More

Cuyahoga Valley Scenic Railroad Programs

Spring and summer programs offer hands-on instruction in Life Sciences, History, Geography, Citizenship Rights/Responsibilities, and Communications.

Read More