Partial Riverview Road Closure - Updated 11/20/13

Curb, guiderail, and paving work has started on Riverview Rd between Fitzwater and Brookside roads. The road is closed to northbound traffic but remains open southbound. Work is expected to be completed by the second week of December due to weather delays More »
Closure on Fishing Will Remain in Effect for Virginia Kendall Lake

Due to the government shutdown, we were unable to survey the fish community in VK Lake as scheduled. Our survey partners (ODNR) will not be able to get into the lake until early spring of 2014. Therefore, the closure on fishing will remain in effect. More »
Bald Eagles in the Park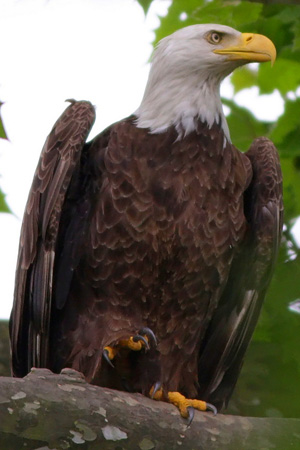 ©JIM KAFTAN

---
Bald eagles are routinely seen along the Cuyahoga River.
---
The Cuyahoga Valley, with expansive, secluded wooded wetlands and rebounding fish populations, has become an ideal place for eagles to feed and nest. The great blue heronry in the Pinery Narrows was a natural choice for the eagles' first nest location. Eagles prefer tall trees and pre-existing nests that they can expand.
Bald eagles have been steadily increasing throughout the nation. In Ohio the greatest concentration occurs along western Lake Erie near Sandusky, from where eagles have been dispersing to new areas.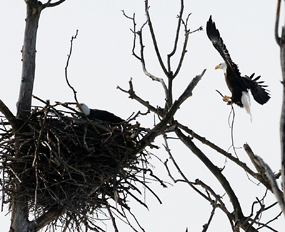 ©R. BELKIN
Beginning In 2006, bald eagles built a nest in the Pinery Narrows area in Brecksville, the first recorded in Cuyahoga County in more than 70 years. That nest was unsuccessful, but the eagles returned to build another nest nearby the following years and successfully raised one eaglet in 2007 and again in 2008.
A late winter storm in February 2009, caused the nest to fail, but in 2010, the same pair returned to the Pinery Narrows area, built a new nest and raised two eaglets!
In 2011, a pair of adult eagles built a nest in the same area, but the entire nest tree blew down during a storm in early March. The pair began to add sticks to another nest in a nearby tree, but was unsuccessful in producing eggs.
Bald eagle fact:
Nest failure can result from building a nest too late in the spring, laying unfertilized eggs or no eggs, or environmental stressors.
In 2012, an eagle pair once again built a new nest in the Pinery Narrows and successfully hatched two eggs. However, only one eaglet successfully fledged.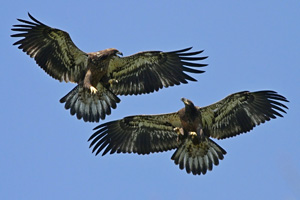 ©Jim Kaftan
2013 Update:
Returning bald eagles built a nest in a new tree within the Pinery NarrowsTrailhead. Two eaglets successfully hatched and fledged.
Although recently removed from the endangered species list, the bald eagle is still protected by the Bald and Golden Eagle Protection Act and the Migratory Bird Treaty Act. Both federal laws prohibit taking, killing, selling or otherwise harming eagles, their nests or eggs.
To learn more about bald eagles read our Bald Eagles Return site bulletin.

Did You Know?

Cuyahoga Valley National Park's namesake river flows north and south. The Cuyahoga River begins its 100 mile journey in Geauga County, flows south to Cuyahoga Falls where it turns sharply north and flows through CVNP. American Indians referred to the U-shaped river as Cuyahoga or "crooked river."