Bald Eagle Closure in Effect Until July 31, 2014

Returning bald eagles are actively tending to last year's nest within the Pinery Narrows area in CVNP. To protect the eagles from human disturbance, the area surrounding the nest tree will be closed until July 31, 2014. More »
Cuyahoga Valley Scenic Railroad (CVSR) Bridge Construction Closures

Rockside and Canal Visitor Center boarding sites will be closed through Apr 27. From Jan 18 - Mar 16, CVSR will operate between Akron Northside and Brecksville stations. From Mar 22 - Apr, CVSR will operate between Akron Northside and Peninsula. More »
Closure on Fishing Will Remain in Effect for Virginia Kendall Lake

Due to the government shutdown, we were unable to survey the fish community in VK Lake as scheduled. Our survey partners (ODNR) will not be able to get into the lake until early spring of 2014. Therefore, the closure on fishing will remain in effect. More »
Bald Eagles in the Park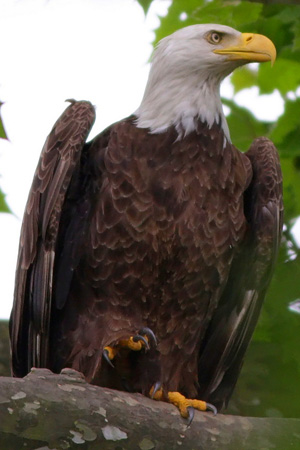 ©JIM KAFTAN

---
Bald eagles are routinely seen along the Cuyahoga River.
---
The Cuyahoga Valley, with expansive, secluded wooded wetlands and rebounding fish populations, has become an ideal place for eagles to feed and nest. Eagles prefer tall trees and pre-existing nests that they can expand.
Bald eagles have been steadily increasing throughout the nation. In Ohio the greatest concentration occurs along western Lake Erie near Sandusky, from where eagles have been dispersing to new areas.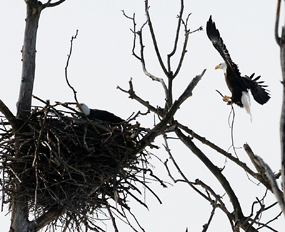 ©R. BELKIN
Beginning In 2006, bald eagles built a nest in the Pinery Narrows area in Brecksville, the first recorded in Cuyahoga County in more than 70 years. That nest was unsuccessful, but the breeding eagles returned and nested the following years with these results:
2007 - one eaglet successfully hatched and fledged
2008 - one eaglet successfully hatched and fledged
2009 - a late winter storm in February 2009 caused the nest to fail
2010 - two eaglets successfully hatched and fledged
2011 - a storm in early March blew down the entire nest tree; another nest was start but no eggs hatched
2012 - one eaglet successfully hatched and fledged
2013 - two eaglets successfully hatched and fledged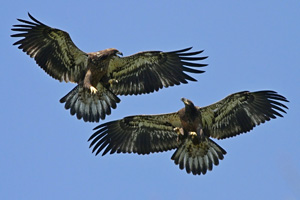 ©Jim Kaftan
February 5, 2014 Update
Returning bald eagles are actively tending to last year's nest within the Pinery Narrows area, north of Station Road Trailhead. To protect the eagles from human disturbance, the area surrounding the nest tree is closed until July 31, 2014.
While the Ohio & Erie Canal Towpath Trail remains open, the National Park Service has closed the following areas:
The railroad tracks, and 30 foot right of way on either side of the railroad tracks, are closed to all pedestrian traffic from the SR 82 Bridge at Station Road Visitor Use Area, north to the railroad tracks at the Fitzwater Yard.

The Cuyahoga River downstream of the Brecksville (SR 82) Dam to the Fitzwater Road Bridge is closed to all water activities (fishing, wading, and boating). Fishing is permitted at the dam.
Please observe any posted restrictions within the eagle nesting zone.
In late winter, eagles lay one to three eggs that are incubated for approximately 35 days. Eagle eggs are extremely sensitive to cold temperatures so adults must remain on the nest constantly. Human disturbance can disrupt this constant care, jeopardizing nesting success.
Although recently removed from the endangered species list, the bald eagle is still protected by the Bald and Golden Eagle Protection Act and the Migratory Bird Treaty Act. Both federal laws prohibit taking, killing, selling, or otherwise harming eagles, their nests, or eggs. Bald eagles returned to the Cuyahoga Valley in 2006, after an absence of 70 years.
To learn more about bald eagles read our Bald Eagles Return site bulletin.

Did You Know?

Lock 27 along the Ohio & Erie Canal became known as Johnnycake Lock after several boats ran aground due to flooding. While stranded, supplies ran low and canal passengers and crew ate only corn meal pancakes, known as "johnnycakes".