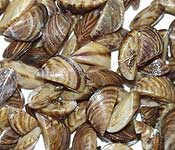 USFWS Photo
ZEBRA & QUAGGA MUSSELS
Zebra and quagga mussels are freshwater, bivalve mollusks that typically have a dark and white (zebra-like) pattern on their shells. Young mussels, however, are invisible to the naked eye. They are alien to North America and have invaded 20 of the lower 48 United States.
Mussels in Blue Mesa Reservoir would disrupt fishing by reducing natural food sources, litter beaches with sharp, odor-producing shells, and ruin boat engines and steering equipment.
All watercraft on Blue Mesa, Morrow Point and Crystal Reservoirs will be inspected for mussels prior to launch. READ MORE
---