Invasive Threats to Curecanti Fisheries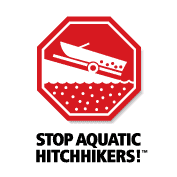 The aquatic ecosystems of Curecanti are threatened by many potentially damaging exotic organisms. The National Park Service is serious about preventing the invasion of exotic species, and asks for your help in keeping the streams and reservoirs clean, clear and fishable.
There is no environmentally sound or inexpensive way to eliminate these invaders once they are introduced.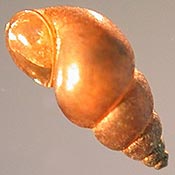 USGS Photo
NEW ZEALAND MUDSNAIL
The New Zealand mudsnail occurs in Colorado but is currently not at Curecanti. If the snail were to become introduced to the Gunnison River or local streams, the fishery could be devastated. New Zealand mudsnails can harm aquatic insect communities, impacting the food chain, and can change the physical characteristics of the river by quickly reproducing in high density masses.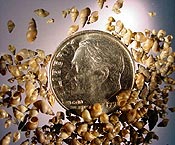 USGS Photo
Please help prevent further spread of New Zealand mudsnails:
CLEAN and INSPECT - Thoroughly rinse and inspect all gear and boating equipment before you leave/enter an area. Clean gear of all material coming from the water (ex: scrub soles of boots, rinse waders, drain cooling and livewell water away from shore) and inspect hard- to-clean areas like laces, insoles, etc.

DRY - Completely dry all gear and boating equipment for 48 hours before using in a different area. Multiple sets of gear are recommended for frequent travelers visiting many areas.

FREEZE, SOAK, or SPRAY - Alternative cleaning methods include freezing gear overnight, soaking gear in hot water for 5 minutes (120°F; warning, may damage Gortex®), and applying Formula 409® (50% dilution recommended) for 5 minutes (soak or shake in waterproof gear bag). Dispose of all chemicals and rinse water properly.

REMEMBER - Mud, sand, plant fragments, and gravel on your gear are all signs that mudsnails may be hiding in your equipment (boots, nets, boats, trailers, etc.).
It is a state and federal offense to transport or release New Zealand mudsnails.
Please report any New Zealand mudsnail sightings to a park ranger.
Additional Information: Protect Your Waters


---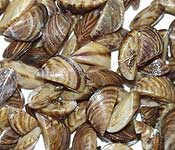 USFWS Photo
ZEBRA & QUAGGA MUSSELS
Zebra and quagga mussels are freshwater, bivalve mollusks that typically have a dark and white (zebra-like) pattern on their shells. Young mussels, however, are invisible to the naked eye. They are alien to North America and have invaded 20 of the lower 48 United States.
Mussels in Blue Mesa Reservoir would disrupt fishing by reducing natural food sources, litter beaches with sharp, odor-producing shells, and ruin boat engines and steering equipment.
All watercraft on Blue Mesa, Morrow Point and Crystal Reservoirs will be inspected for mussels prior to launch. READ MORE
---
WHIRLING DISEASE
Whirling Disease is a parasitic infection affecting primarily rainbow and cutthroat trout populations. The Gunnison River is already positive for this parasite, however, detailed information about this disease and its prevention and control is available from the
Colorado Parks and Wildlife.