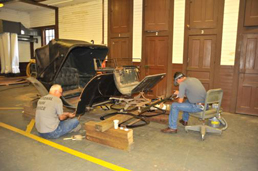 NPS Photo
Carriage Conservation
A Conservator of Furniture/Wood Objects from Harpers Ferry, Al Levitan , is transforming one of the historic carriages. The Victoria carriage is getting a facelift as layers of old deteriorated coatings are removed to reveal its original beauty. This type of carriage originated in England in the 1820's. Named for England's queen, it became popular as a luxurious park carriage since the open sides allowed the ladies to display their finery during afternoon drives in the park. Although Lucy Carnegie had a carriage similar to this one, the newly-revealed monogram LWC indicates it may have been owned by Lucy Whitfield Carnegie, Andrew Carnegie's wife.
Other carriages on display at the Cumberland Island Museum in St. Marys include:
Glens Falls Buckboard Surrey, c 1900
Built by the Griffith & Leland Co of Glens Falls, NY, it was often used as a touring vehicle.