Waiting to Make a Reservation

Call volume is very heavy right now. Here's how you can prepare for a speedy reservation when you call the Concession operated reservation line. More »
kayaking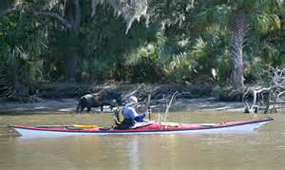 Kayaking can be a great way to enjoy Cumberland Island National Seashore. Whether you're planning a day trip or an overnight adventure be sure you have the right gear, understand the local tides, and keep a close eye on mother natures ever changing conditions. No matter if you're a novice or experienced kayaker, you can check out these local, registered guide services to help plan your trip to Cumberland Island to ensure a safe trip for all.
Up The Creek Expeditions
P.O. Box 5236 St Marys, GA 31558
912-882-0911
E-Mail: Info@upthecreekx.com
Internet: www.cumberlandislandadventures.com
South East Adventure Outfitters
313 Mallory St., St. Simons Island, GA 31552
Phone: (912) 638-6732
E-Mail: kayak@SouthEastAdventure.com
Internet: http://southeastadventure.com
Geneva Kayak Center
301 E. Hydraulic St., Yorkville, IL 60560
Phone: (630) 882-9211
E-Mail: info@genevakayak.com
Internet: www.genevakayak.com
Did You Know?

Cumberland Island's human history spans nearly 4000 years and features time periods including early native peoples, the Colonial expansion, the Plantation Era, the Gilded Age and finally its designation as a National Seashore.