No Cave Tours or Hensley Tours on September 27

There will be no Gap Cave or Hensley Settlement tours offered on September 27, 2014 due to special Heritage Walk program. For more information please call the park visitor center at (606) 248-2817, extension 1075.
Sugar Run Trail Closed to Horses

The Sugar Run Trail is temporarily closed to horse use due to the number of fallen trees as a result of recent storms. The trail is still open for hikers, but hikers should use caution.
Back the Bears!

Support the park's "Back the Bears" campaign and help keep our bears wild and safe! More »
Cave Tour Alert!

White Nose Syndrome is a disease that is killing bats in great numbers and has been found in park caves. While visiting Gap Cave please do not wear or bring anything that has been in other caves. Skylight Cave is currently closed.
Your Safety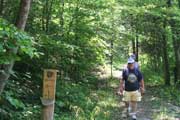 NPS Photo
Some things to consider while hiking and exploring the park:
Always wear appropriate clothing and footwear.
Be sure to take plenty of food and water.
Be aware of weather conditions. The weather can sometimes be unpredictable, especially at higher elevations. Severe thundersorms often bring lightning and winter storms can move in rapidly bringing ice and snow.
Due to damage from the Southern Pine Beetle, some species of pine trees have died and can come down during high winds.
Some of the natural plants and animals can cause problems if you come in direct contact with them. Poison Ivy can be found throughout the park and lines many of the trails. Remember: "Leaves of three leave it be!"
Bears are active in the park. Please be sure to store food in a secure location when not in use and dispose of garbage appropriately (either take it with you or place into a park bear proof container).
more...
There are two venomous snakes in the park: The Northern Copperhead and the Timber Rattler. These snakes are not a problem if left alone.

Learning to identify the native plants and animals can be fun and help ensure a safe trip into the great outdoors!
For more information please call (606) 248-2817.


Get the latest NOAA weather forecast

Link to the NOAA website

The park visitor center

The visitor center houses a museum, book sales, handmade crafts from the region, and an auditorium. Read More
Did You Know?

Gap Cave has also been called: King Solomon's Cave, Soldier's Cave, and Cudjo's Cave! The cave was originally referred to as "Gap Cave" because of its proximity to the Gap. When early pioneers saw the cave they knew they were about to cross the mountains into the wilderness of Kentucky.