Increase in camping rates at the Wilderness Road campground

Effective June 1, 2013, camping rates will increase. Tent sites will increase to $14.00 per night and RV sites with electrical hookup will increase to $20.00 per night. Group camp sites will increase to $35.00 per night.
Special Program offered in place of Hensley tour on June 16

The regularly scheduled Hensley tour will not be offered on June 16 but will be replaced by a special Father's Day program. The road to the Hensley Settlement will be open to visitors and living history demonstrations will be offered. More »
Cave Tour Alert!

White Nose Syndrome is a disease that is killing bats in great numbers and has been found in park caves. While visiting Gap Cave please do not wear or bring anything that has been in other caves. Skylight Cave is currently closed.
Civil War Event Cancelled

Invisible Souls: Behind the Veil of the Civil War, a special event showcasing stories of the Civil War October 4, 5, and 6, 2013 has been cancelled. Please call the park visitor center at (606) 248-2817, extension 1075 for more information.
Where To Eat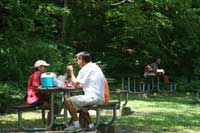 NPS Photo
There are no dining facilities in the park. However, resaurants are located in Middlesboro, Kentucky; Cumberland Gap, Tennessee; and Harrogate, Tennessee; and Tazewell, Tennessee. Dining facilities can also be found at Kentucky's Pine Mountain State Park approximately 13 miles to the north.
There are a number of picnic areas in the park. Most have shaded picnic tables, water fountains, and trash containers. Some of the picnic areas also have covered shelters which can accomodate large groups.
These shelters can be reserved up to 90 days in advance by calling (606) 248-2817. A $30.00 reservation fee does apply.


Did You Know?

Vice President Richard Nixon visited Cumberland Gap on July 3, 1959 to commemorate the formal dedication of the park which took place the following day.  While at the park he visited the scenic Pinnacle Overlook and attended festivities in the nearby town of Middlesboro, Kentucky.