Cumberland Gap Tip Line

Help protect your national park! Report any crimes or suspicious activity including damage or theft of park resources. More »
No Cave Tours or Hensley Tours on September 27

There will be no Gap Cave or Hensley Settlement tours offered on September 27, 2014 due to special Heritage Walk program. For more information please call the park visitor center at (606) 248-2817, extension 1075.
Sugar Run Trail Closed to Horses

The Sugar Run Trail is temporarily closed to horse use due to the number of fallen trees as a result of recent storms. The trail is still open for hikers, but hikers should use caution.
Back the Bears!

Support the park's "Back the Bears" campaign and help keep our bears wild and safe! More »
Things To Know Before You Come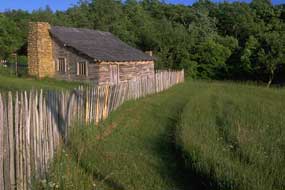 Photo by Chuck Summers
Come experience the beauty and solitude of the southern mountains! The story of early pioneers; settlers and soldiers; pristine mountain streams; sights and sounds of wildlife; pastoral landscapes- all can be found while exploring Cumberland Gap National Historical Park.


Accessiblity

Accessibillity in Cumberland Gap National Historical Park Read More

Be on the lookout for exotic pests!

Exotic pests like the Emerald Ash Borer threaten our park Read More

Get the latest NOAA weather forecast

Link to the NOAA website

The park visitor center

The visitor center houses a museum, book sales, handmade crafts from the region, and an auditorium. Read More
Did You Know?

Cumberland Gap is an incredible destination for hikers and backpackers... over 85 miles of trails and numerous backcountry camping areas.