Bridge Work

Due to bridge work in the park, please be alert to lane changes and changing traffic patterns. More »
Cave Tour Alert!

White Nose Syndrome is a disease that is killing bats in great numbers and has been found in park caves. While visiting Gap Cave please do not wear or bring anything that has been in other caves. Skylight Cave is currently closed.
Pets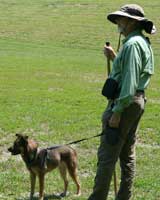 Cumberland Gap National Historical Park is a pet friendly park!
Pets are welcome but must be on a leash or in a carrier at all times while in the park.
Horses are allowed on designated trails and at the Hensley Camp, White Rocks, and Martin's Fork backcountry campsites.

For more information call (606) 248-2817.


Did You Know?

Hensley Settlement is located on a plateau nearly 1,000 feet higher than the Pinnacle Overlook! Ranger-guided tours visit this historic log cabin settlement mid-May through the end of October.