Increase in camping rates at the Wilderness Road campground

Effective June 1, 2013, camping rates will increase. Tent sites will increase to $14.00 per night and RV sites with electrical hookup will increase to $20.00 per night. Group camp sites will increase to $35.00 per night.
Special Program offered in place of Hensley tour on June 16

The regularly scheduled Hensley tour will not be offered on June 16 but will be replaced by a special Father's Day program. The road to the Hensley Settlement will be open to visitors and living history demonstrations will be offered. More »
Cave Tour Alert!

White Nose Syndrome is a disease that is killing bats in great numbers and has been found in park caves. While visiting Gap Cave please do not wear or bring anything that has been in other caves. Skylight Cave is currently closed.
Civil War Event Cancelled

Invisible Souls: Behind the Veil of the Civil War, a special event showcasing stories of the Civil War October 4, 5, and 6, 2013 has been cancelled. Please call the park visitor center at (606) 248-2817, extension 1075 for more information.
Permits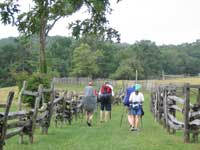 NPS Photo
Backcountry Camping
Backcountry campsites are located throughout the park and require a backcountry use permit, which must be picked up in person at the visitor center. Backcountry permits are free of charge.
Backcountry campsites can be reserved up to three months in advance by calling (606)248-2817.


Camping - Group Sites
$30.00 - Day
Group camping is available with reservations. For groups over 30 individuals, each additional person is $1.00
Group campsites can be reserved up to three months in advance by calling (606)248-2817.
Special Use Permits
Special Use Permits are required by the National Park Service to assure that parks remain unimpaired for the enjoyment of future generations. Any activities that would cause damage to park resources cannot be allowed.
Providing opportunities for appropriate public enjoyment is an important part of the National Park Service mission. Approval of special uses of the park—unrelated to public enjoyment—may be allowed if not otherwise prohibited by law or regulation. However, the National Park Service can only allow uses that are:
(1) appropriate to the purpose for which the park was established, and
(2) can be sustained without causing unacceptable impacts.
A special park use is defined as an activity that takes place in a park area, and that:
provides a benefit to an individual, group or organization rather than the public at large;
requires written authorization and some degree of management control from the National Park Service in order to protect park resources and the public interest;
is not prohibited by law or regulation;
is not initiated, sponsored, or conducted by the National Park Service; and
is not managed under a concession contract, a recreation activity for which the NPS charges a fee, or a lease.
Special Use Permit Application (180 KB)
Follow the directions found in the form then mail the completed form to:

Cumberland Gap National Historical Park
Park Headquarters
PO Box 1848
Middlesboro, KY 40965
Forms will only be accepted via U.S. Mail. Forms that have been faxed or e-mailed will not be accepted for consideration.
A non-refundable application fee is required:
$50.00 for filming and $25.00 for all other activities.
Additional administrative, location and/or cost recovery fees may also be charged.
Film Permits are provided on an individual basis. On May 15, 2006 the National Park Service established procedures and guidelines for the issuing of commercial film and still photography permits in units of the National Park Service. For commercial filming as defined by those guidelines, there is a permit fee.
For more information please call (606) 248-2817.


Did You Know?

Designated sites at the park's Wilderness Road Campground are fully accessible. These sites feature hardened surfaces, increased fire grate height and wheelchair-friendly picnic tables.  Many of the park's other facilities are fully accessible as well! More...