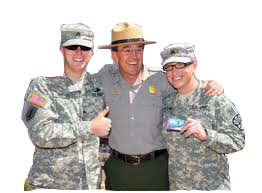 America the Beautiful Annual Pass, Military - Free
Available to US military members and their dependents in the Army, Navy, Air Force, Marines, and Coast Guard, as well as most members of the US Reserves and National Guard. Proper military ID is required (CAC Card or DoD Form 1173).
Obtained in person at Federal recreation sites that charge entrance or standard amenity fees. Covers entrance to Fish and Wildlife Service and National Park Service sites that charge Entrance Fees, and Standard Amenity Fees at Forest Service, Bureau of Land Management and Bureau of Reclamation sites.
Admits the pass owners and any accompanying passengers in a private non-commercial vehicle at per vehicle fee areas, or the pass owner and up to additional 3 adults at sites that charge per person. Non transferable