No Cave Tours or Hensley Tours on September 27

There will be no Gap Cave or Hensley Settlement tours offered on September 27, 2014 due to special Heritage Walk program. For more information please call the park visitor center at (606) 248-2817, extension 1075.
Sugar Run Trail Closed to Horses

The Sugar Run Trail is temporarily closed to horse use due to the number of fallen trees as a result of recent storms. The trail is still open for hikers, but hikers should use caution.
Back the Bears!

Support the park's "Back the Bears" campaign and help keep our bears wild and safe! More »
Cave Tour Alert!

White Nose Syndrome is a disease that is killing bats in great numbers and has been found in park caves. While visiting Gap Cave please do not wear or bring anything that has been in other caves. Skylight Cave is currently closed.
For Kids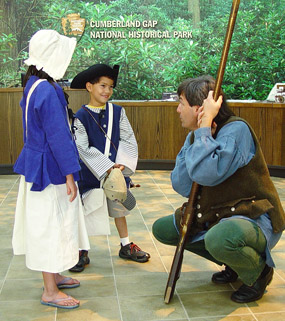 NPS Photo
The Pioneer Playhouse!
Kids and kids at heart can experience the life of a pioneer at the pioneer playhouse in the visitor center. Don a tri-cornered hat, a chamise, a hunting frock or linsey-woolsey britches and pack your possible bag!
Museum
Explore the visitor center museum and learn about the park through hands on exhibits. See actual artifacts and lighted displays. Touch the skins of animals!
Junior Ranger Program
Learn about Cumberland Gap National Historical Park and become a Junior Ranger! Junior Ranger badges are available to all who participate. Inquire at the park visitor center.


Discover the wonders of the natural world!

Park rangers lead visitors on hikes which unlock the mysteries of the natural world. Read More
Did You Know?

Kentucky's Historian Laureate, Dr. Thomas Clark, listed Cumberland Gap as #1 in his list of 11 sites that every Kentuckian should visit. (Dr. Clark passed away on July 28th, 2005… just two weeks short of his 102nd birthday!)