Increase in camping rates at the Wilderness Road campground

Effective June 1, 2013, camping rates will increase. Tent sites will increase to $14.00 per night and RV sites with electrical hookup will increase to $20.00 per night. Group camp sites will increase to $35.00 per night.
Special Program offered in place of Hensley tour on June 16

The regularly scheduled Hensley tour will not be offered on June 16 but will be replaced by a special Father's Day program. The road to the Hensley Settlement will be open to visitors and living history demonstrations will be offered. More »
Cave Tour Alert!

White Nose Syndrome is a disease that is killing bats in great numbers and has been found in park caves. While visiting Gap Cave please do not wear or bring anything that has been in other caves. Skylight Cave is currently closed.
Civil War Event Cancelled

Invisible Souls: Behind the Veil of the Civil War, a special event showcasing stories of the Civil War October 4, 5, and 6, 2013 has been cancelled. Please call the park visitor center at (606) 248-2817, extension 1075 for more information.
Indoor Activities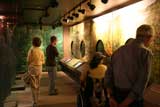 NPS Photo
Visitor Center
The park visitor center houses a museum with interactive exhibits, book sales outlet, auditorium with 2 high definition films, and Cumberland Crafts which showcases handmade crafts from the region. The visitor center is fully accessible with designated parking and an elevator.
The park visitor center is open daily from 8:00 a.m. until 5:00 p.m. Eastern time. It is closed on Christmas day.
Park Films
Two high definition films are shown throughout the day in the visitor center auditorium. Both films are closed captioned.
The story of the early pioneers' and settlers' migration west through Cumberland Gap comes to life in the high definition film Daniel Boone and the Westward Movement. This film lasts 23 minutes.
The Cumberland Gap takes a close look at the fantastic natural and historical features found in the park. It is a great orientation to the park and its many facets. This film lasts 11 minutes.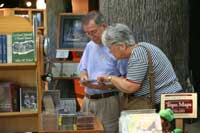 NPS Photo
Eastern National Bookstore
The book sales outlet in the visitor center carries a number of books, souvenirs, games, postcards, and numerous other items related to the park and its many stories.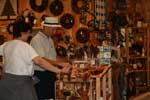 NPS Photo
Cumberland Crafts
Hand made items from the region can be found at Cumberland Crafts. Throughout the year, artisans demonstrate their techniques. Cumberland Crafts is a member of the Southern Highland Craft Guild, an educational, non-profit organization which focuses on bringing together crafts and crafts people of the mountain region for the benefit of education and awareness.


Did You Know?

Gap Cave has also been called: King Solomon's Cave, Soldier's Cave, and Cudjo's Cave! The cave was originally referred to as "Gap Cave" because of its proximity to the Gap. When early pioneers saw the cave they knew they were about to cross the mountains into the wilderness of Kentucky.