Cumberland Gap Tip Line

Help protect your national park! Report any crimes or suspicious activity including damage or theft of park resources. More »
No Cave Tours or Hensley Tours on September 27

There will be no Gap Cave or Hensley Settlement tours offered on September 27, 2014 due to special Heritage Walk program. For more information please call the park visitor center at (606) 248-2817, extension 1075.
Sugar Run Trail Closed to Horses

The Sugar Run Trail is temporarily closed to horse use due to the number of fallen trees as a result of recent storms. The trail is still open for hikers, but hikers should use caution.
Back the Bears!

Support the park's "Back the Bears" campaign and help keep our bears wild and safe! More »
Indoor Activities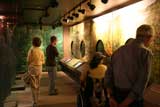 NPS Photo
Visitor Center
The park visitor center houses a museum with interactive exhibits, book sales outlet, auditorium with 2 high definition films, and Cumberland Crafts which showcases handmade crafts from the region. The visitor center is fully accessible with designated parking and an elevator.
The park visitor center is open daily from 8:00 a.m. until 5:00 p.m. Eastern time. It is closed on Christmas day.
Park Films
Two high definition films are shown throughout the day in the visitor center auditorium. Both films are closed captioned.
The story of the early pioneers' and settlers' migration west through Cumberland Gap comes to life in the high definition film Daniel Boone and the Westward Movement. This film lasts 23 minutes.
The Cumberland Gap takes a close look at the fantastic natural and historical features found in the park. It is a great orientation to the park and its many facets. This film lasts 11 minutes.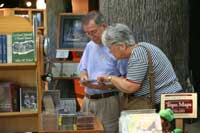 NPS Photo
Eastern National Bookstore
The book sales outlet in the visitor center carries a number of books, souvenirs, games, postcards, and numerous other items related to the park and its many stories.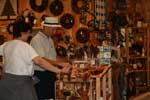 NPS Photo
Cumberland Crafts
Hand made items from the region can be found at Cumberland Crafts. Throughout the year, artisans demonstrate their techniques. Cumberland Crafts is a member of the Southern Highland Craft Guild, an educational, non-profit organization which focuses on bringing together crafts and crafts people of the mountain region for the benefit of education and awareness.


Did You Know?

At one time it was proposed that a gigantic head of Abraham Lincoln be carved in the face of the Pinnacle Overlook.