No Cave Tours or Hensley Tours on September 27

There will be no Gap Cave or Hensley Settlement tours offered on September 27, 2014 due to special Heritage Walk program. For more information please call the park visitor center at (606) 248-2817, extension 1075.
Sugar Run Trail Closed to Horses

The Sugar Run Trail is temporarily closed to horse use due to the number of fallen trees as a result of recent storms. The trail is still open for hikers, but hikers should use caution.
Back the Bears!

Support the park's "Back the Bears" campaign and help keep our bears wild and safe! More »
Cave Tour Alert!

White Nose Syndrome is a disease that is killing bats in great numbers and has been found in park caves. While visiting Gap Cave please do not wear or bring anything that has been in other caves. Skylight Cave is currently closed.
Getting Around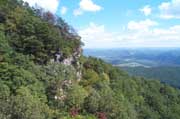 NPS Photo
Skyland Road and the Pinnacle Overlook
Leaving the visitor center, park visitors can drive the winding, four-mile-long Skyland Road up the mountain to the Pinnacle Overlook (elevation 2,440 feet) for a spectacular view into Kentucky, Virginia, and Tennessee.
Skyland Road is periodically closed during the winter due to inclement weather.
The road is closed to vehicles 20 feet or longer in length. When park staff is available, shuttles to the Overlook can be arranged; cost is $5.00 per person.
Inquiries can be made at the park visitor center or by calling (606)248-2817.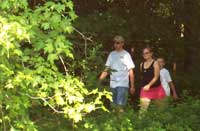 Photo by Robert Wilson
Trails
Approximately 85 miles of hiking trails meander through eastern deciduous forest in this 24,000 acre national park. Distances range from a 1/4-mile loop trail to the 21-mile-long Ridge Trail.


Discover the wonders of the natural world!

Park rangers lead visitors on hikes which unlock the mysteries of the natural world. Read More

Hensley Settlement

Tours of the historic Hensley Settlement showcase life in the southern Appalachians. Read More

Cleopatra's Pool in Gap Cave

Ranger led tours visit the wonderful world of Gap Cave Read More
Did You Know?

Cumberland Gap is an incredible destination for hikers and backpackers... over 85 miles of trails and numerous backcountry camping areas.