Bridge Work

Due to bridge work in the park, please be alert to lane changes and changing traffic patterns. More »
Cave Tour Alert!

White Nose Syndrome is a disease that is killing bats in great numbers and has been found in park caves. While visiting Gap Cave please do not wear or bring anything that has been in other caves. Skylight Cave is currently closed.
Getting Around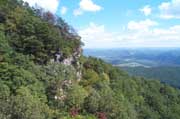 NPS Photo
Skyland Road and the Pinnacle Overlook
Leaving the visitor center, park visitors can drive the winding, four-mile-long Skyland Road up the mountain to the Pinnacle Overlook (elevation 2,440 feet) for a spectacular view into Kentucky, Virginia, and Tennessee.
Skyland Road is periodically closed during the winter due to inclement weather.
The road is closed to vehicles 20 feet or longer in length. When park staff is available, shuttles to the Overlook can be arranged; cost is $5.00 per person.
Inquiries can be made at the park visitor center or by calling (606)248-2817.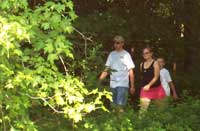 Photo by Robert Wilson
Trails
Approximately 85 miles of hiking trails meander through eastern deciduous forest in this 24,000 acre national park. Distances range from a 1/4-mile loop trail to the 21-mile-long Ridge Trail.


Did You Know?

Vice President Richard Nixon visited Cumberland Gap on July 3, 1959 to commemorate the formal dedication of the park which took place the following day. While at the park he visited the scenic Pinnacle Overlook and attended festivities in the nearby town of Middlesboro, Kentucky.