Back the Bears!

Support the park's "Back the Bears" campaign and help keep our bears wild and safe! More »
Cave Tour Alert!

White Nose Syndrome is a disease that is killing bats in great numbers and has been found in park caves. While visiting Gap Cave please do not wear or bring anything that has been in other caves. Skylight Cave is currently closed.
Cumberland Gap Tip Line

Help protect your national park! Report any crimes or suspicious activity including damage or theft of park resources. More »
Shuttle to Hensley Settlement

There will be no shuttle or tour to Hensley Settlement on August 10, 2014. Tours on other days will continue to be offered as scheduled. For questions and more information please call the park visitor center at (606) 248-2817, extension 1075.
Schedule Of Events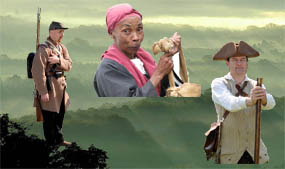 Interpretive and Educational Programs are offered throughout the year
2014 Program Schedule (3.3mb)
Search for Events
Events Upcoming for July
Showing 50 results

 RSS Feed


Did You Know?

Designated sites at the park's Wilderness Road Campground are fully accessible. These sites feature hardened surfaces, increased fire grate height and wheelchair-friendly picnic tables. Many of the park's other facilities are fully accessible as well! More...