Cave Tour Alert!

White Nose Syndrome is a disease that is killing bats in great numbers and has been found in park caves. While visiting Gap Cave please do not wear or bring anything that has been in other caves. Skylight Cave is currently closed.
Cumberland Gap Tip Line

Help protect your national park! Report any crimes or suspicious activity including damage or theft of park resources. More »
Brochures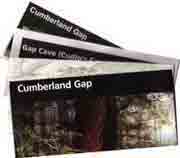 Brochures and maps are available at the park visitor center.
Maps and brochures can also be downloaded here.

Upon request the Cumberland Gap National Historical Park Official map and Guide will be mailed to you.
Brochures on local attractions are also available.
To receive brochures by mail, please contact the park with your name and address.
by E-mail:
e-mail us
or Write to:
Cumberland Gap National Historical Park
91 Bartlett Park Road
Middlesboro, KY 40965
or Call:
(606) 248-2817


Did You Know?

Vice President Richard Nixon visited Cumberland Gap on July 3, 1959 to commemorate the formal dedication of the park which took place the following day. While at the park he visited the scenic Pinnacle Overlook and attended festivities in the nearby town of Middlesboro, Kentucky.