Sugar Run Trail Closed to Horses

The Sugar Run Trail is temporarily closed to horse use due to the number of fallen trees as a result of recent storms. The trail is still open for hikers, but hikers should use caution.
Shuttle to Hensley Settlement

There will be no shuttle or tour to Hensley Settlement on August 10, 2014. Tours on other days will continue to be offered as scheduled. For questions and more information please call the park visitor center at (606) 248-2817, extension 1075.
Back the Bears!

Support the park's "Back the Bears" campaign and help keep our bears wild and safe! More »
Cave Tour Alert!

White Nose Syndrome is a disease that is killing bats in great numbers and has been found in park caves. While visiting Gap Cave please do not wear or bring anything that has been in other caves. Skylight Cave is currently closed.
Brochures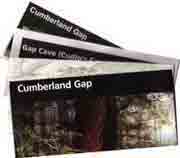 Brochures and maps are available at the park visitor center.
Maps and brochures can also be downloaded here.

Upon request the Cumberland Gap National Historical Park Official map and Guide will be mailed to you.
Brochures on local attractions are also available.
To receive brochures by mail, please contact the park with your name and address.
by E-mail:
e-mail us
or Write to:
Cumberland Gap National Historical Park
91 Bartlett Park Road
Middlesboro, KY 40965
or Call:
(606) 248-2817


Did You Know?

Kentucky's Historian Laureate, Dr. Thomas Clark, listed Cumberland Gap as #1 in his list of 11 sites that every Kentuckian should visit. (Dr. Clark passed away on July 28th, 2005… just two weeks short of his 102nd birthday!)