No Cave Tours or Hensley Tours on September 27

There will be no Gap Cave or Hensley Settlement tours offered on September 27, 2014 due to special Heritage Walk program. For more information please call the park visitor center at (606) 248-2817, extension 1075.
Sugar Run Trail Closed to Horses

The Sugar Run Trail is temporarily closed to horse use due to the number of fallen trees as a result of recent storms. The trail is still open for hikers, but hikers should use caution.
Back the Bears!

Support the park's "Back the Bears" campaign and help keep our bears wild and safe! More »
Cave Tour Alert!

White Nose Syndrome is a disease that is killing bats in great numbers and has been found in park caves. While visiting Gap Cave please do not wear or bring anything that has been in other caves. Skylight Cave is currently closed.
Accessibility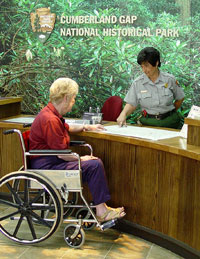 NPS Photo
The park's visitor center complex includes a museum, auditorium, sales areas and restrooms. All are accessible, allowing for wheelchair use. Designated parking allows easy access to the building. Multimedia exhibits in the museum allow for use of different senses. The park films feature close captioning; assisted listening devices are available.
At an elevation of 2,440 feet, the Pinnacle Overlook is perhaps the most visited area in the park. A level 1/4-mile paved trail provides access to this overlook, from which visitors have a spectacular view into Kentucky, Tennessee, and Virginia. Accessible restrooms are located near the overlook.
Accessible drive-in campsites are available at the park's Wilderness Road Campground. Surfaces within these sites have been hardened, the height of fire grates has been increased, and picnic tables have been modified. Restrooms and showers are accessible and are family friendly for visitors with small children. A short, paved trail leads to the campground's amphitheatre, where park rangers present programs on the cultural and natural history of the park.


Did You Know?

Kentucky's Historian Laureate, Dr. Thomas Clark, listed Cumberland Gap as #1 in his list of 11 sites that every Kentuckian should visit. (Dr. Clark passed away on July 28th, 2005… just two weeks short of his 102nd birthday!)