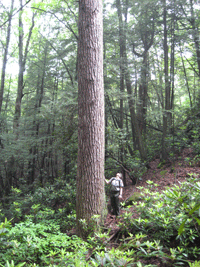 NPS photo
On the front lines of the battle to protect and preserve our park are the park scientists who are tasked with finding these potential pests and checking to ensure that park resources are healthy.
Scientists routinely inspect and monitor the park looking for alien species of plants and animals. They also take any necessary and appropriate action to combat these alien invaders!
BE ON THE LOOKOUT!
Some of the pests that Park scientists are looking for and hoping to keep out of our park include: Asian Long Horned Beetle, Hemlock Wooly Adelgid, Gypsy Moth, and Emerald Ash Borer.