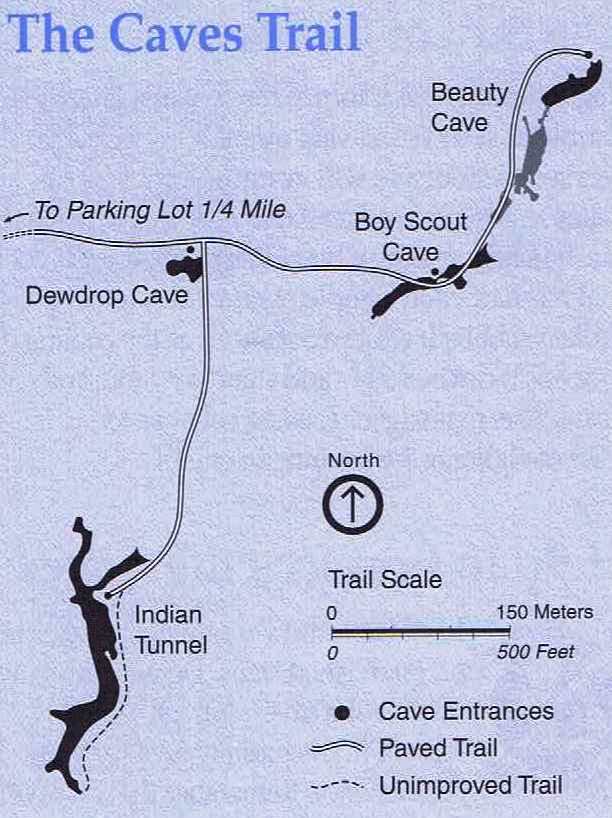 The caves area contains many stark contrasts: searing heat on the black surface versus the cool of the cave interiors, roaring afternoon wind versus the dampened stillness below ground, brilliant light and expansive views versus the enclosed darkness of the lava tubes. The drama of these contradictions draws people into this strange world.
Help Preserve the Caves and Cave Residents
---
Please do not bring food into the caves or leave trash in the caves. There is a trash can located in the parking lot. Remember that all cave features are fragile and irreplaceable. Do not remove any rocks or other objects from the caves area.

To prevent the spread of white-nose syndrome, a fungal disease that has killed over a million bats since 2005, screening is required before entering any cave on National Park Service lands. Screening and cave permits may be obtained at the Monument entrance station, at the Visitor Center or on Ranger guided walks. Permits are valid for the five developed caves: Indian Tunnel, Dew Drop, Boy Scout, Beauty, and Buffalo Caves. All other caves are closed to recreational caving.

Be prepared to answer the following questions:
-Have you visited a cave or mine since 2005?
-Do you have any items with you that entered into the caves or mines you previously visited? (e.g., clothing, shoes, flashlights, cameras, watches, phones, etc.)
Detailed decontamination procedures have been developed by the U.S. Fish and Wildlife Service.
Click here to read more about Monument caves...
Safety - Be Prepared!


---
These caves are undeveloped and contain many hazards. There is no artificial lighting, nor are there any paved trails. The floors are uneven and possibly icy; ceilings may be low with sharp stalactites.
Take at least one dependable source of light for short trips, three for extended exploration. Only Indian Tunnel may be visited without a flashlight.

Wear sturdy shoes and long pants. Move slowly and watch for obstacles.

Wear a helmet for protection against low ceilings. If you do not have a helmet, a hat may offer limited protection.

Do not enter the cave alone. Help can be a long time in coming.

Areas where specific hazards such as loose rock exist have been marked and are closed to entry.
Cave Descriptions and Maps
---