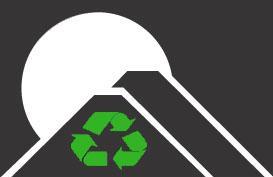 Waste
Every year 35 million trees are cut just to supply paper products like hand towels and toilet paper in public buildings across America. To reduce our demand for these resources, the monument's restrooms feature energy-efficient hand dryers instead of paper towels and toilet paper made from 100% recycled sources. Facilities are cleaned with phosphate-free, biodegradable products. Additionally, the monument's recycling program diverts a substantial amount of glass, plastic bottles, aluminum, cardboard, and paper from the landfill. Visitors that take the time to sort and recycle their trash make this program a success - thank you!


Water
Until recently lawns gulped up more than two-thirds of all water used in the park. Combined with aging water lines that leaked continually, the monument's limited water supply simply could not keep up with demand - frequently reduced to a trickle during dry times. Today the high desert is slowly reclaiming ground near the visitor center and residences that once harbored lawns. Replacement of failing water infrastructure reduced the amount of water lost to leaks almost entirely. In this instance, being sustainable had little to do with choice and everything to do with survival.


Stepping Lightly
Below are five sustainable steps you can take to lighten your carbon footprint while visiting Craters of the Moon. You will likely see similarities to actions you have made - or can make - at home:
- Use a refillable water bottle rather than purchasing bottled water.
- Wash and reuse plates, cups and utensils.
- Cool your camper or RV by opening a window instead of using a generator to run the air conditioner.
- Pack out waste that cannot be recycled.
- Drive at the posted highway speed while travelling to the monument; every 5 mph above 65 mph results in a 7-percent increase in fuel use.
To calculate your carbon footprint or to learn about other actions you can take to make your home, office, or school sustainable, visit the
Do your Part! website
.