Remote Operated Vehicle
NPS
A remote operated vehicle (ROV) and U.S. Geological Survey towed camera sled was used to map the distribution of underwater moss.

NPS
Green moss surrounds Wizard Island from approximately 26 meters (85 feet) to 140 meters (460 feet) depth.

Did You Know?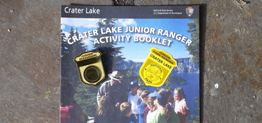 Kids can earn their Junior Ranger badge year round. Stop in the Steel Visitor Center to pick up the activity booklet and more information.