Vehicle-Free Days on East Rim Drive

The park will host two vehicle-free days on East Rim Drive, September 20 and 27, 2014. Although East Rim Drive will be closed for these events, all other roads through the park will remain open to vehicular traffic. More »
Lost Creek Campground CLOSED Nights of 9/19 and 9/26

Lost Creek Campground will be CLOSED from 3:00 PM Friday, 9/19 until 5:00 PM Saturday, 9/20 because of the temporary road closure to vehicles on East Rim Drive. It will also be CLOSED from 3:00 PM Friday, 9/26 until 5:00 PM Saturday, 9/27.
Stage 1 Fire Restrictions in Effect

To ensure public safety and to provide the highest degree of protection to park resources, restrictions on campfires, smoking, and fireworks are in effect. More »
How are crayfish affecting Mazama Newts?
The Mazama Newt likely inhabited the entire lake shoreline since they colonized the lake as early as 6,000 years ago.
The figure below shows that the Mazama Newt only occupies 50% of the habitat with crayfish inhabiting the other 50%.
There are very few sites with both crayfish and newts.
Crayfish were introduced to the lake by humans in 1914 for fish food.
Studies with newts and crayfish in tanks show that crayfish will kill newts and/or force then to flee to other areas.
Did You Know?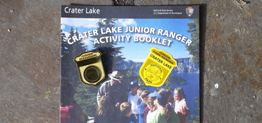 Kids can earn their Junior Ranger badge year round. Stop in the Steel Visitor Center to pick up the activity booklet and more information.