Vehicle-Free Days on East Rim Drive

The park will host two vehicle-free days on East Rim Drive, September 20 and 27, 2014. Although East Rim Drive will be closed for these events, all other roads through the park will remain open to vehicular traffic. More »
Lost Creek Campground CLOSED Nights of 9/19 and 9/26

Lost Creek Campground will be CLOSED from 3:00 PM Friday, 9/19 until 5:00 PM Saturday, 9/20 because of the temporary road closure to vehicles on East Rim Drive. It will also be CLOSED from 3:00 PM Friday, 9/26 until 5:00 PM Saturday, 9/27.
Stage 1 Fire Restrictions in Effect

To ensure public safety and to provide the highest degree of protection to park resources, restrictions on campfires, smoking, and fireworks are in effect. More »
Environmental Monitoring of Crater Lake
This short video is an excerpt from the visitors center film "Crater Lake  Into the Deep".

Duration:

41 seconds

Credit/ Author:

NPS

Date created:

2014-04-24
Long-term Limnological Monitoring Program (LTLMP)
The current LTLMP began as a ten-year study (1983-1993) to determine if Crater Lake water clarity was decreasing and to monitor and document the characteristics of Crater Lake.
The goals of the current LTLMP are:
develop a reliable database for lake, springs, and seep environmental data
develop an understanding of

physical
chemical
and, biological processes of the lake, springs, and seeps.

continue a long-term monitoring program
investigate the possibility of long-term changes in the lake
and, if changes found, and human-caused (for instance pollution), recommend mitigation techniques.

NPS
Lake
Crater Lake National Park has had an environmental monitoring program running continuously since 1983.
The monitoring program is conducted by Crater Lake biologists and other university and government scientists.
The monitoring includes:
NPS
Springs and Seeps
Biologists also do environmental monitoring of groundwater springs and seeps inside the caldera. These springs and seeps contribute small amounts of water to Crater Lake.
Springs monitoring has been conducted since 1992.
The monitoring includes:
Did You Know?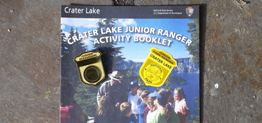 Kids can earn their Junior Ranger badge year round. Stop in the Steel Visitor Center to pick up the activity booklet and more information.