Bull Trout distribution
Western Native Trout Campaign
The bull trout is a char most closely related to white-spotted char of northeast Asia
Historic range from northern California (McCloud River) and Nevada to northern Canada, now extirpated from California
One of the most restricted temperature tolerances of any North American salmonid: optimal growth at ~13°C, decline in feeding ≥16°C
Exhibit diverse life histories, including resident, potamodromous, and anadromous forms
Known for piscivory at large sizes
Once maligned as "trash fish" subject of eradication efforts during early 20th century
NPS
Bull Trout once widely distributed in Upper Klamath Basin at least as far downstream as Keno.
At least 40% of historical Bull Trout populations in the basin have experienced recent extirpation (Buchanan et al. 1997).
Bull Trout now limited to discrete isolated headwater populations.
Listed as threatened under ESA in Klamath in 1998, prior to range-wide listing in 1999
Basin-wide recovery goals include expanding populations downstream.

In 1989 Bull Trout in Sun Creek were restricted in distribution to 1.9 km and numbered approximately 150 individuals.

Threats included nonnative Brook Trout (S. fontinalis) and lack of habitat connectivity due to irrigation of private land.


Did You Know?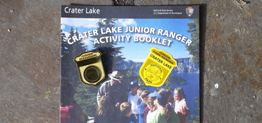 Kids can earn their Junior Ranger badge year round. Stop in the Steel Visitor Center to pick up the activity booklet and more information.