Vehicle-Free Days on East Rim Drive

The park will host two vehicle-free days on East Rim Drive, September 20 and 27, 2014. Although East Rim Drive will be closed for these events, all other roads through the park will remain open to vehicular traffic. More »
Lost Creek Campground CLOSED Nights of 9/19 and 9/26

Lost Creek Campground will be CLOSED from 3:00 PM Friday, 9/19 until 5:00 PM Saturday, 9/20 because of the temporary road closure to vehicles on East Rim Drive. It will also be CLOSED from 3:00 PM Friday, 9/26 until 5:00 PM Saturday, 9/27.
Stage 1 Fire Restrictions in Effect

To ensure public safety and to provide the highest degree of protection to park resources, restrictions on campfires, smoking, and fireworks are in effect. More »
Bull Trout - Salvelinus confluentus
Watch this Oregon Field Guide episode for an excellent introduction into the Bull Trout problems at Crater Lake National Park:

Sun Creek, a headwater stream in Crater Lake National Park, contains a population of Endangered Species Act listed, native Bull Trout (Salvelinus confluentus) recovering from decades of competition with nonnative Brook Trout (S. fontinalis).
The National Park Service (NPS) eradicated Brook Trout from upper Sun Creek during the early 2000s.
Bull trout have gradually expanded to occupy vacant habitat in the stream, but many areas that once contained high densities of Brook Trout remain only sparsely populated by Bull Trout.
Current management actions will eradicate nonnative trout from the lower portion of the Sun Creek watershed and create additional vacant habitat for Bull Trout.
Did You Know?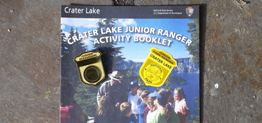 Kids can earn their Junior Ranger badge year round. Stop in the Steel Visitor Center to pick up the activity booklet and more information.