NPS
Weather Buoy
Installed in 1992
used for climate change research
used to help understand the effects of air and water temperature on lake currents
anchored in water 580 meters deep
records:

air temperature
humidity
wind direction
wind speed
water temperature
solar radiation

View the data at this site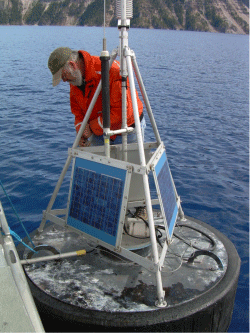 NPS
Maintenance of the weather buoy.
The buoy can be detached from the mooring, towed to shore, and the top removed to access data loggers and batteries on the inside.
Weather data is collected every hour. A computer, using a telephone modem, calls a relay station located in the Crater Lake Lodge. The relay station, using a radio modem, then calls the weather buoy and establishes a two-way connection between the buoy and the computer so data can be collected.
The HQ computer then transmits the data to the public website for use by staff, the National Weather Service, and other interested parties.