Van Dorn water samplers are used in Crater Lake to collect water at eleven depths (surface, 5m, 10m, 20m, 60m, 100m, 200m, 300m, 400m, 500m, 550m). The lake is 574 meters deep at the sampling location. Usually, the lake is sampled once every summer month (July, August, and September). Water chemistry variables that are measured at each depth include dissolved oxygen, pH, alkalinity, conductivity, ammonia, nitrate, other nitrogen compounds, ortho-phosphate, total phosphorus, sulfate, chloride, calcium, magnesium, potassium, sodium, silicates, and iron.

Visit this page to learn more about Van Dorn samplers.

Loading the player...

Van Dorn Water Sampler

A short video, excerpted from the visitors center film "Crater Lake  Into the Deep", shows the Van Dorn sampling system in operation.

Duration:

20 seconds

Credit/ Author:

NPS

Date created:

2014-04-15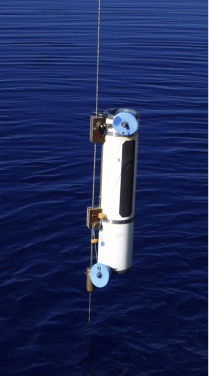 NPS
Van Dorn water samplers are attached to a cable that is then is lowered into the lake. By the time the cable reaches the bottom of the lake there are 11 Van Dorn samplers on the line. A weight is dropped at the top of the cable, which then travels down the line and trips, and closes, the ends of each Van Dorn sampler. The cable is then pulled back into the boat and the water in the Van Dorn bottles is collected for water quality testing.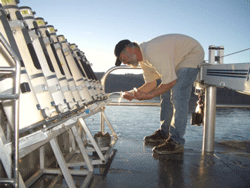 NPS
A scientist carefully removes water from a Van Dorn sampler.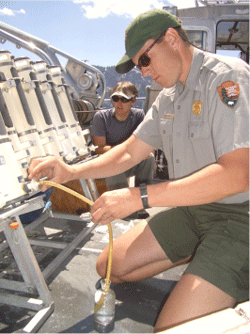 NPS
A park biologist collects lake water from a Van Dorn sampler for laboratory testing of the oxygen requirements of the sample.

Underwater Research Equipment

Photographs of the various equipment scientists use to explore Crater Lake. Read More

Monitoring of Crater Lake

View this page to find detailed information on the environmental monitoring of Crater Lake and the springs and seeps that flow into Crater Lake. Read More

The story of crayfish in Crater Lake

The signal crayfish was introduced to Crater Lake in 1914 and ever since has been degrading the Crater Lake ecosystem. Read More