The CTD water monitoring sensor packages
A CTD is an instrument used in oceanography that contains multiple sensors attached to a single unit. The CTD is attached to a cable that is raised and lowered in the water column. Visit this site for additional information on CTD's.
Crater Lake owns two CTD units, one unit is deployed from the research boat Neuston and the other unit is permanently moored in the lake and takes a top to bottom measurement once per day.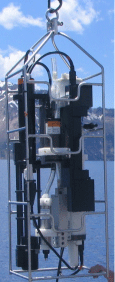 NPS
Lowered from the water surface to the bottom (580 meters)
Takes readings twice per second
Stores readings while being lowered and data is downloaded afterwards on the boat
Measures:

water temperature
depth
salinity
particle density
chlorophyll concentration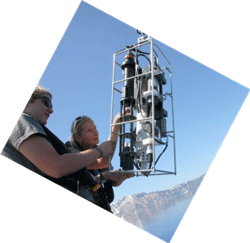 Crater Lake biologists prepare the CTD for deployment by turning the power on and cleaning the sensor heads.
Getting the CTD ready for deployment.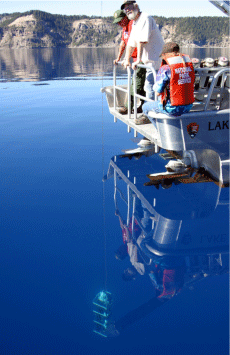 The CTD sensor package is visible about 15 feet below the boat.
The CTD is being lowered from the R/V Neuston on a wire winch.
The unit is approximately 5 meters (15 feet) under the boat in the picture.