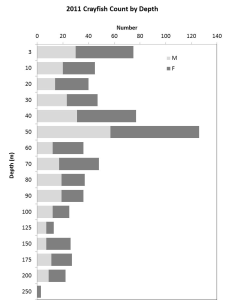 NPS
This figure shows how deep signal crayfish are found in Crater Lake.
The deepest crayfish collected were at 820 feet!
60% of the crayfish were trapped between the lake surface and 164 feet.
Why is it important to know the depths were crayfish live?
Park managers may want to crayfish populations to protect the Mazama Newt,
Knowledge of the shoreline locations where crayfish live, and how deep they live, will help managers understand the impact of crayfish to other plants and animals in the lake.